The festive season is upon us and once again we are scratching our heads as to what to get our loved ones. Luckily, we have created a Sourdough Club Christmas Gift Guide, with all our favourite ingredients, equipment, courses and kits to get you inspired!
Buy One, Gift One
Always wanted to learn to bake sourdough bread? Don't know where to start? Worried it will be really hard? Until 31st January 2023, you can buy a 12-Month Sourdough Club Community Membership for yourself and get a second to gift to a friend. Learn to make sourdough together, wherever you are in the world! Follow recipes, video tutorials and masterclasses from expert sourdough baker Vanessa Kimbell and the team at The Sourdough School. Meet our sourdough community over on our forum and join Vanessa for weekly live Clinic sessions to ask any questions you may have about your bread. Learn the art of making nutritious and delicious sourdough bread! Our existing Club members have been using this offer to gift memberships to two loved ones! Click here to learn more…
What's new this week?
Searching for that perfect sourdough gift? Know someone who is dreaming of baking a delicious and nutritious sourdough boule? A crunchy, chewy and nourishing loaf, beautifully shaped, with great oven spring and elegant scouring! We've put together a kit to make those dreams a reality.
Including our favourite ingredients, dough scraper, bench knife, banneton, thermometer and lame. Plus Vanessa's classic book The Sourdough School and our 5 sourdough cards, which include recipes, record sheets and a flavour wheel.
This sourdough baking kit also comes with a £99 coupon to go towards joining the Club!
A stunning gift to treasure for a lifetime of baking. This lame allows you to score expansive cuts in your bread dough prior to baking. The cuts and incisions help to create surface texture on your crust. Made from solid walnut this would be the perfect gift for a sourdough baker who loves baking with beautiful handcrafted tools.
Getting started with sourdough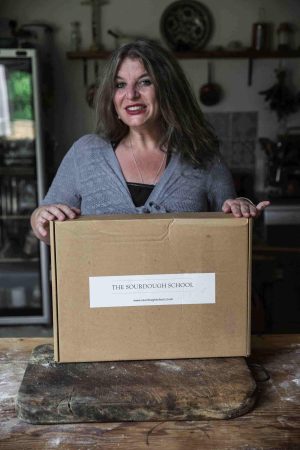 If you're looking for a gift for a newbie to sourdough baking, here are a couple of other kits in our range to help them get started.
Our Essential Sourdough Baking Kit has everything you need to get started baking your first tinned loaf of sourdough bread. From the organic and artisan diversity flour, to Vanessa Kimbell's accompanying book 10 Minute Sourdough to the hand-crafted loaf tins, we've included all our favourites! Plus when you buy this kit you receive a £99 e-voucher to use against our regular 12 Month Community Membership to join the Club.
Our French white starter is one that Vanessa has been using since she was 11 years old and originates in the bakery she grew up baking with in France. We have verbal confirmation that the starter originated over 115 years ago and has been maintained ever since…it's a lovely story. Accompanied by a free 3 month 'White Sourdough Starter Course' on how to refresh and look after your starter, and also a £35 e-voucher to put towards joining the Club via our 3 Month Community Membership.
We couldn't live without…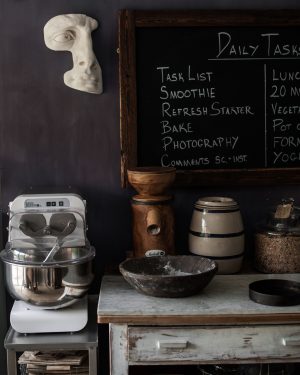 Already baking boules and ready for the next step in your sourdough equipment collection? Most domestic ovens are less than ideal when it come to a beautiful loaf with maximum oven spring. What baking dough needs is immediate, even heat and steam. Our Spun Iron Cloche is the perfect way to achieve this. The result is bread that reaches its full potential – evenly baked, golden and open-crumbed.
Milling your own flour is one of the most rewarding things for a sourdough baker. The warm, grassy notes of freshly milled flour are evocative of a meadow on a warm day. The complex flavour and incredible nutrition will change the way you bake forever. We sell a whole range of Mockmills, for personal and professional use. Mockmill's are available as:
Mockmill 100 and 200 – bioplastic casing
Mockmill 100 and 200 – wooden casing
Mockmill 200 Professional – wooden casing
Top ingredients for Christmas baking

This Christmas we're dreaming of rich, indulgent chocolate logs, boozy hot chocolates by the fire and decadent sourdough chocolate loaves.
If you're making chocolate the star of the show this Christmas, you'll need to start with the best quality single source chocolate. Which is why we love using Menakao – this ethical cooking chocolate doesn't just taste good, it does good. Madagascan chocolate maker Menakao proudly crafts its chocolate on the island, using only local ingredients.
You can bake any bread you want with a Chocolate Sourdough Starter, but it works especially well with sweet bakes. Another valuable starter of Vanessa's from the Sourdough School, perfect for any sourdough enthusiast…
Stocking fillers for under £20
Back in stock are our French-style linen-lined wicker bannetons. Handmade and designed to last a lifetime, these are the bannetons that Vanessa has been using at The Sourdough School for more than ten years. A beautiful gift that will be treasured for years to come.
What baker wouldn't be delighted with this tin? Tin loaves are perfect for new sourdough bakers but they aren't just for beginners. They are perfect for experimenting with flours, where you aren't going to be able to build a robust gluten structure, like rye and other heritage grains. We also highly recommend this tin for bakers using Vanessa's 10 Minute Sourdough book or maybe you're just looking for the perfect slice of sourdough bread to fit in your toaster. Handmade and with no nasty coatings.
Stocking fillers for under £5

Not ready to invest in a Mockmill? But wanting to try out our Botanical Blends?
Botanical Blends are key to The Sourdough Schools teaching on diversity, gut health and baking to nourish. Diversity Blend No.0+ is base blend of grains, pulses and botanicals, which you can personalise by adding your own local or favourite botanicals, herbs, spices and edible flowers. The complex flavours of your diversity loaves will blow your mind.
Artisan bread starts with artisan ingredients. Salt is essential to add flavour to sourdough and strengthen the gluten network. Un-rinsed sea salt is particularly rich in micro-minerals, including zinc, potassium and iodine. This beautiful salt is our personal favourite…
Give a loaf!
Giving isn't just about spending, it's about connecting and sharing! This year our bakers have been working hard to #bake2give1 sharing their bread with their loved ones and in their communities. You only have to look at the news, to see that for a lot of people this Christmas, money is tight. Which is why gifting your bread is more important than ever. You're sharing something you've put time, energy and love into. Something that delights and nourishes. Whether you're bringing a delectable sourdough cake to a party, wrapping up a sourdough boule under the tree or giving out sourdough mince pies to neighbours, remember to use #bake2give1
Whatever you are doing this year, whatever you gift, we wish you good health and wellness, and hopefully a relaxing time with family and friends.
The Sourdough Club Team x