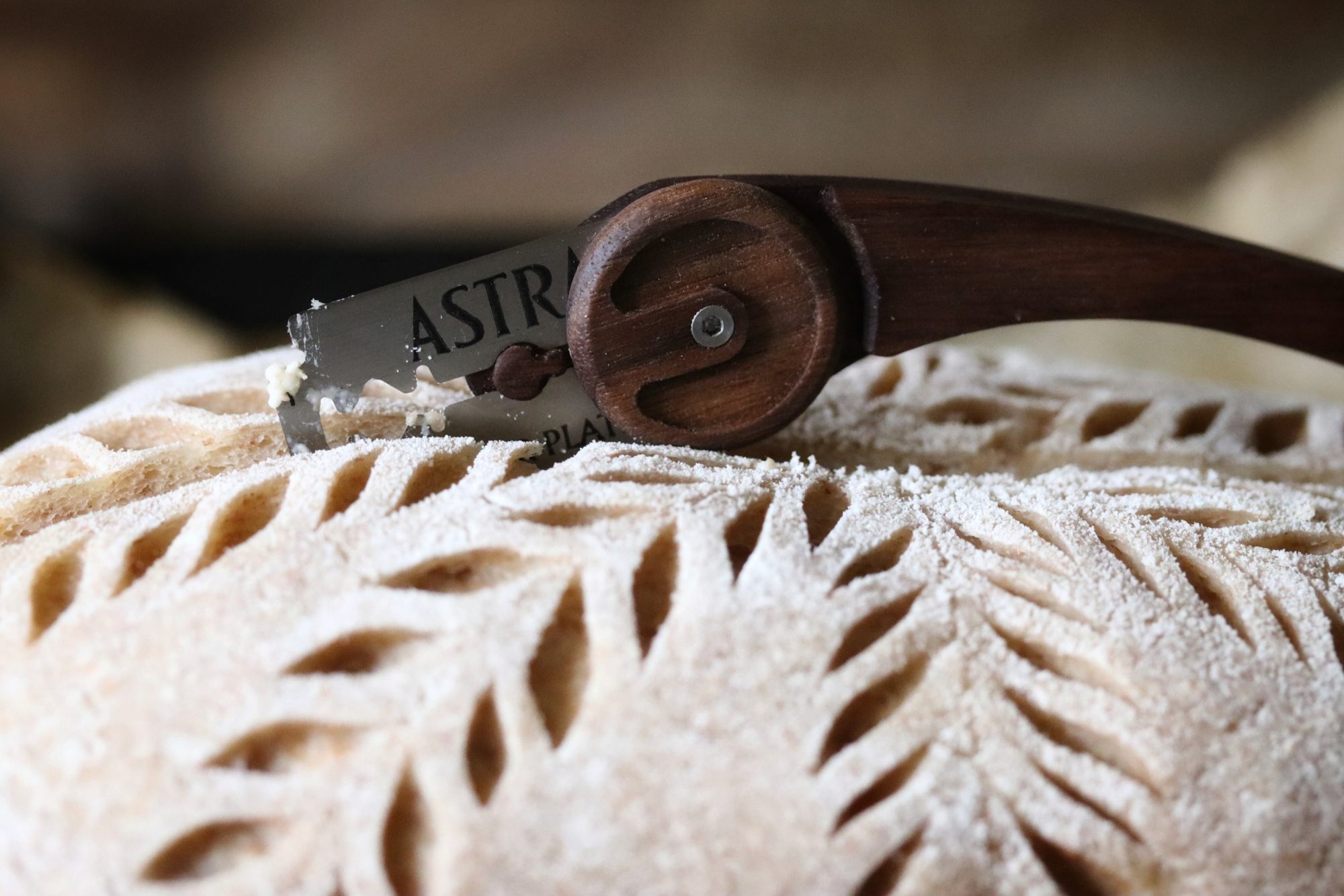 Wire Monkey Goose lame has some seductive curves, no protruding knobs, a curved grip that lets you slice arc upward or downward, and a snippy-snappy rare earth magnet blade guard that not only shields you from the blade but also lets you attach it to a metal surface.
Materials: solid American walnut wood and stainless steel hardware were used to construct this goose lame.
We love a beautiful hand crafted wooden lame. This reminds us very much of the wonderful wooden lame that EJ of Hatchet + Bear used to make for us. Our shop feels empty without his work. So we have chosen Wire Monkey's lame to remind us of all the beauty that EJ created.
Wire Monkey's story
We make the highest quality bread scoring lames in the world. We invented the circular UFO style lame and the rest of our models are all designed to meet the specific needs of artisan detailed bread designers. Insist on genuine Wire Monkey lames for your scoring needs.
Serendipitously, my wife was teaching herself to bake sourdough and I was itching to make something new. I saw her scoring with a razor mounted on a coffee stirrer and thought to myself that I could make a better blade holder. My web searches led me to videos of bakers scoring dough with bare blades. So I set out to make a lame as small and light as possible, and almost immediately the idea for the circular lame came to me. I named it the UFO because of my affinity for 1950's sci-fi films.
There are starting to be more and more counterfeits out in the world. I hope you will buy an original Wire Monkey UFO from us for the following reasons:
– We invented it.
– We don't use plastics or harsh chemicals.
– We pay fair wages.
– We love and give back to the baking community and are deeply involved in the Real Bread movement.
– We make beautiful objects that feel good in the hand and will last a lifetime or two if you treat them well.
– We are a small, family run and owned company.
– We stand behind our products 100%.
– We are based in Connecticut, USA.
Thanks for stopping by!
Tyler
Why do you need to score sourdough?
Club Members can read all about why you need to score sourdough here.
Not a member of the Sourdough Club yet?
You can view our membership options here