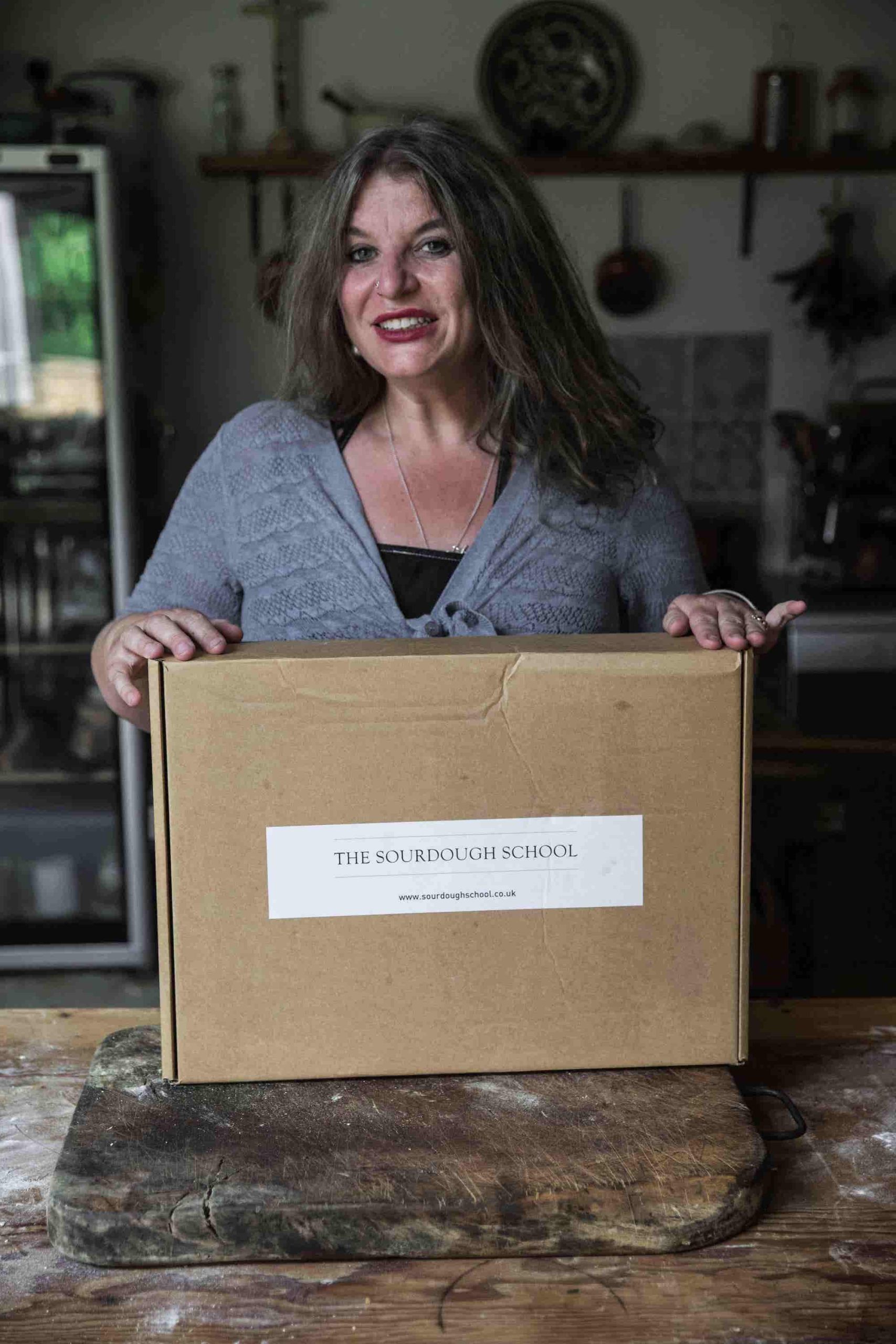 Our Essential Sourdough Baking Kit is ideal for all sourdough bakers, beginners especially. It contains everything you need to begin to bake healthy and nutritious, diversity sourdough tin loaves.
This kit includes Vanessa Kimbell's 10 Minute Sourdough recipe book. It is the perfect accompaniment to all of the tin loaf recipes in all of Vanessa's recipes books, and those on the Sourdough Club. Free for all to use on the Sourdough School website is our Sourdough Tin Loaf Recipe.
It can of course be purchased as an individual item either for yourself or as a gift for someone.
This sourdough baking kit comes with a £99 coupon which can be used to join the Club! Your coupon gives you or a loved one £99 off our Sourdough Club 12 Month Gold Community Membership.
There are lots of questions that people ask about our sourdough kits and we will be answering these in the tabs below, please refer to these for many more details regarding delivery, returns and exactly who delivers your kit.
Bread can harm or it can heal. Bread and baked goods make up the top three out of four of the largest proportion of our daily calorie consumption. It is impossible to ignore the impact of bread and baked goods on our health and wellness, and yet bread is possibly the most misunderstood of our most basic foods. If bread is a staple food of most households in the UK, why are so many of us content to eat low quality, highly processed bread, that denies our bodies essential fibre and nutrients? Fermenting and baking your own bread is the best way to ensure you are eating the highest quality bread, that is not only nutritious, but delicious!
The beautiful thing about sourdough bread is that's made with only 3 simple ingredients – flour, water and salt! However, to make incredible sourdough bread at home, you're going to need a few bits of kit. What's a workman without his tools?
When you start baking sourdough, there is so much to learn.  The very first thing is to learn a rhythm, and to recognise what good, robust fermentation looks like, so we recommend that you begin with a tin loaf. It gives you time to get into the rhythm of the schedule and to understand the basic principles of flour.
This kit comes with a very special flour, our Diversity Blend 0+ flour. With 10+ ingredients grown in the UK it provides diversity for your gut and an incredible flavour profile for your bakes. It is designed to be used instead of wholemeal flour. It is so much more than just flour.
Whether you are wanting to learn to bake sourdough yourself or are looking for a gift for a food-loving friend, our sourdough baking kits and courses are a great place to start. We are giving you everything you need to get into the kitchen and start baking!
What about a fresh white sourdough starter?
Our White Starter Kit & Course is here should you need to also order a white sourdough starter.
Not a member of the Sourdough Club yet?
You can view our membership options here and join.
Please note: if you are ordering from abroad please do check our 'Delivery' tab below, especially the customs information.