What is a prescription Membership?
A prescription membership is prescribed to patients by doctors and healthcare professionals who have graduated from The Sourdough School
As our in-house GP and Medical Director Dr Alex Davidson explains: 'This is a preventative medical approach that uses evidence-based behavioural interventions to prevent, treat and manage chronic disease.'
Lifestyle Medicine Prescription
We work with partners including doctors and healthcare practitioners, and your practitioner may socially prescribe membership and suggest that learning to bake according to lifestyle medicine principles could be a way to improve the way you feel. In our easy, affordable, interactive courses, we explore the amazing science of how baking can transform health.
Which memberships are considered prescription courses?
The Sourdough Club Membership runs according to the six pillars of Lifestyle Medicine, and our approach is specifically created to focus on baking optimally for heath or social issues, by having fun, and baking, eating and sharing nourishing bread.
You can expect to make amazing, simple, delicious bakes that you can eat and share with the people you love. We have had amazing advances in healthcare, but there is no pill to cure a poor diet. The best medicine is prevention via a healthy lifestyle, and our courses teach you that you can change the way you live through making sourdough bread. It's delicious, sociable and healthy, and also incorporates functional exercise. Our approach will help you in so many ways. You may find you are able to sleep better, and that you have less anxiety and depression and more energy, as well as reducing your overall risk of chronic illness.
Can I just buy a membership?
Yes, absolutely. Our memberships are available for anyone to buy.  We call this a self-referral membership.
Does it work?
Yes, it does. You can see an overview of our Case Study Library here. 
At The Sourdough School, (where we film and managed the website), we have taught hundreds of people over many years, sharing with them our approach to making and eating bread. Time and time again, students have followed our lifestyle-medicine-based approach to baking and reported back changes in mood, sleeping patterns, digestion, weight management and mental health. So, we researched these changes to the gut microbiome and measured the impact on health through dietary intervention studies. The results were so amazing that  that we decided we had to find a way to share this approach with healthcare professionals, and so we created our prescription-level memberships.
You don't need a doctor to tell you to eat well and prioritise your health, so you can self-prescribe by enrolling yourself on a course to improve your health and wellbeing.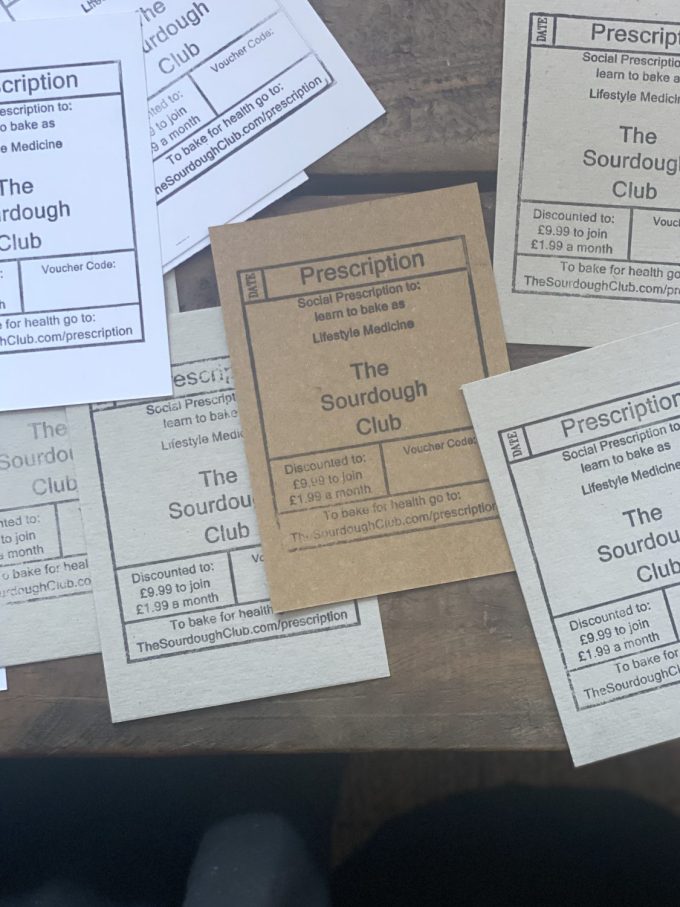 How much do the courses cost?
Prescription Memberships range in price. However, if your course has been prescribed to you by your healthcare practitioner, then your prescriber will have given you a voucher code. This significant discount should make the membership affordable.
How much does it cost to join?
As a social enterprise, we give our practitioners vouchers, and your practitioner is able to invite you with a discount allowing you to join The Club for £9.99. Your monthly subscription is £1.99.
These social prescriptions are part of our Systems Change Programme. If your doctor or healthcare practitioner is one of  our Sourdough School graduates, they will have been given a practitioners' licence. If they feel that this bread-making prescription course is something that will improve your health, then they can prescribe the membership voucher for you as a social prescription.
Our programme enables graduates to apply their understanding of the BALM Protocol and to identify which membership will suit which patient and help improve their physical and mental health in their patients.
We know that when you are feeling poorly, a little compassion goes a very long way towards helping you feel better. Vanessa, the course director, often explains that compassion is catching.  The social prescription memberships are not just about learning to make bread. They are about discovering a sense of purpose. Through making bread that is good for you and the people you are connected to, you will also learn about communication and kindness – as well as getting to enjoy amazing bread that fills the kitchen with delicious aromas.
Because the real meaning of bread is friendship.
Making it simple
The courses are delivered online.
There is no need for any prior knowledge of baking.
The breads are created by applying the principles of Lifestyle Medicine.
We have designed the courses around inexpensive and accessible ingredients.
Eligibility criteria guidance
We do understand that this lifestyle prescription has limitations, and our healthcare practitioners will need to ensure that patients to whom they give a prescription have:
access to a suitable device and the internet in order to be able to register online and watch the tutorials
access to a kitchen with an oven
access to simple equipment, including a bowl, a wooden spoon and a bread tin or ovenproof dish
a good command of the English language (the courses are currently all in English)
What if my practitioner has not given me a prescription?
We are working really hard to find ways to train more healthcare practitioners and make our prescriptions more widely available. We are not doctors, so we are not able to do the social prescribing ourselves. If you are feeling unwell or overwhelmed, it is really important that you see your GP or healthcare provider.
If your healthcare provider does not have a practitioners' prescription, you can self-prescribe by joining as a member. Alternatively, if life is financially challenging, then please check out one of our free recipes.
What if I am struggling to afford the flour?
We have a small discretionary fund to help members who find themselves needing a hand.  Please email bookings@sourdough.co.uk and speak to us about the flour and equipment vouchers that are available to you.