Occasionally we end up with more sourdough bread in our house than we can eat. I do freeze slices, but sometimes if my sourdough is going a bit past it, then I love making this date and walnut bread and butter pudding. It is sliceable, so if you want to eat it warm with custard-like a traditional bread pudding you can, but you can also cut yourself a slice and warm in the oven for 10 minutes. It dries out, and gets slightly toast like on the outside, and it is delicious, almost like a moist slice of fruit cake with a dollop of cream.
I use my dates quite dry and add them in at the last minute, but they do suck up some of the moisture. So you could pre-soak them (in warm water and drain well) or buy semi-dry if you prefer your loaf moister.
Lastly, walnuts are wonderful for helping to lower your cholesterol. They grow so abundantly in the South West of France that my mother keeps a huge bowl of them on the kitchen table. Morris; my neighbour gave be a huge bag last year that I am still working my way through them, which is great because they are one of my absolute favourite things to throw into my sourdough at every opportunity.
Number of servings 8
Equipment in order of usage
Large mixing bowl
Hand whisk
2lb loaf tin, buttered
Ingredients
3 large eggs
150g soft brown sugar
150g melted butter
A good grating of nutmeg
400g whole milk
1 heaped teaspoon Ndali Vanilla Powder
300g sourdough bread, torn or cut into large bite size chunks
100g dates
100g walnuts
Spare brown sugar to sprinkle over the top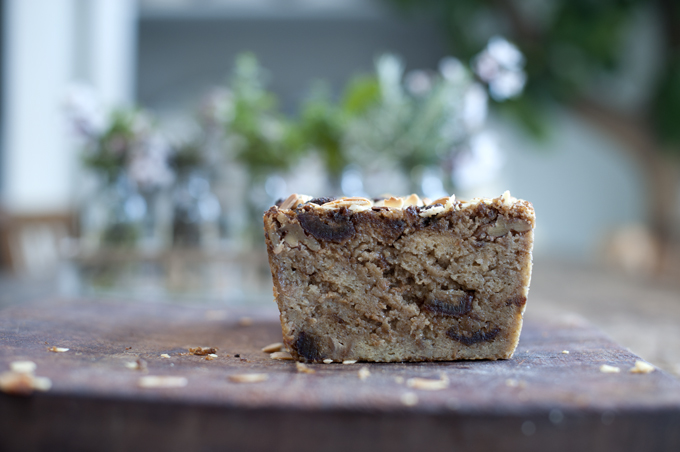 Method
Break the eggs into a large mixing bowl, add the sugar and butter and lightly whip. Add the vanilla and nutmeg. Slowly add the milk, mixing until fully incorporated. Add the bread and mix well. Although initially it may look like there is way too much liquid but over the next few hours the bread will incorporate the liquid and look like an eggy-mash. Leave somewhere cool for at least 3 hours, if not longer. Once the bread has completely soaked up all the liquid, get your hands in and really break it up. Next stir in the dates and walnuts. Pour the mixture into a buttered 2lb loaf tin. Sprinkle the top of the pudding with a tablespoon of soft brown sugar. If you want it to be particularly pretty you can also sprinkle a tablespoon of flaked almonds too. Pop into a preheated oven at 150C (300F) for 30 minutes. Then cover with foil; turn the heat down to 140C (275F) and bake for a further 10 minutes. When it is set there will still be a slight wobble to it. It should be golden brown. Remove from the tin and allow to cool before slicing.