I'm not sure I would make my own butter if it wasn't for the fact that I absolutely love real buttermilk. I use the cream from my local farmer that is sold in our local greengrocers to turn into delicious homemade butter and buttermilk. I also love the fact that the dairy supplies our local shop directly, and I've been a customer of our local greengrocers since I was a little girl. It means that the farmer is paid a fair price for his milk. One of the things that is perhaps not well known in the UK is that over the last decade or so, milk prices have at times dropped so low that the cost of producing milk has been higher than the market was paying for it. No wants to think about it .. but whilst researching for my book Food for Thought I uncovered the fact that suicide rates among dairy farmers are especially high. I found the way in which farmers are treated deeply disturbing especially learning that large corporates literally squeeze the price to low it is not economical to produce milk with cows outside in the fresh air and farmers can no longer make a living.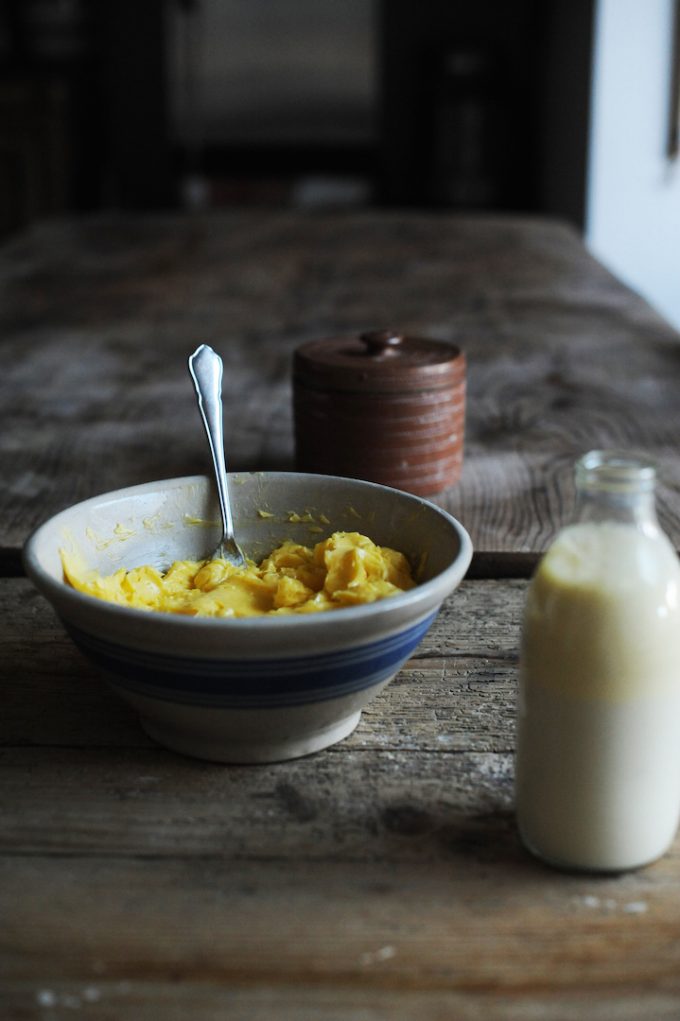 Making a delicious loaf of bread is about far more than just good something that tastes good. It's also a question of what we put on that bread and what it symbolises. For me it's not just butter. I's delicious butter made with milk from local cows, cared for by a farmer who plays cricket at the cricket club next to my parent's farm. It's about community, I guess.
Ingredients
2 litres fresh double cream
1 heaped tablespoon kefir grains or a really good quality yoghurt
8g sea salt, optional
It's very easy to make amazingly delicious butter at home. You can make it directly with fresh cream, but I prefer to culture the cream overnight. There are several ways to do this. I tend to use a milk kefir, largely because studies have shown that kefir grains have significant nutritional and health benefits. If you don't maintain a milk kefir, you may be able to find really good kefir at the supermarket, or you can use a great quality natural yoghurt – one with a good helping of live lactic acid bacteria. Add a large, heaped tablespoon of either kefir grains or yoghurt to the cream, stir and cover the bowl with a damp cloth. Leave the cream overnight, and in the morning you will have a beautiful culture with a light yoghurt lactic tang.
Pour the cultured cream into a bowl. You can make the butter by hand, but be prepared for a serious workout – it will take the better part of an hour to whip the cream into butter. Alternatively, make the most of modern technology, and beat the cream using a stand mixer on a slow speed. This will be quicker, so take care to watch and listen as the cream is mixed. You need to stop the mixer at the moment when the butter splits away from the buttermilk. At this point you will have a rich, deep yellow butter wallowing in the buttermilk.
Drain the buttermilk off. I use old fashioned milk bottles to store it, and keep it in the fridge. This delicious homemade buttermilk is used here at the school in soups. And in the summer I use it to make a wonderfully refreshing drink – simply whizz it up with some strawberries and serve chilled. When made from cultured cream, the buttermilk is full of lactic acid bacteria and acts as a probiotic.
Carefully rinse the drained butter under icy cold water to wash away the last of the buttermilk, then make sure it is very well drained. If you are going to use the butter for baking, and there are plenty of recipes to choose from on The Sourdough School website, you need to leave it unsalted. The butter can be shaped into small blocks and kept in the fridge, or frozen for later use. In fact, it freezes beautifully so, although 800g of butter might seem like a lot to make, it will keep well and can be taken out of the freezer in smaller portions as you need it.
The butter is fabulous served with a freshly baked loaf. I tend to salt the butter that I serve at the table with 1% salt –that would be 8g of salt for 800g of butter. I will often serve the butter in a dish alongside bread that is still just warm from the oven. Or I put a block of butter into a jam jar and top the jar up with a little bit of the buttermilk. Then we sit around the table, chatting while we tear chunks of bread from the loaf and drag them through both the butter and the buttermilk to eat.
It also makes some wonderful flavoured butters. I blend 200g of butter with 2 heaped tablespoons of icing sugar and 2 heaped tablespoons of cocoa powder to get chocolate butter. Or use a tablespoon of cinnamon in place of the cocoa powder for cinnamon butter, which is divine spread onto hot toast, especially on a winter's day. I make a range of herb butters too, they are always useful to add to soups and pasta dishes. Take a small bunch of fresh herbs, maybe parsley, oregano or mint (actually, shredded mint leaves make a really good addition to the chocolate butter), chop them finely and mix into some softened butter. Then there's the classic garlic butter. Just add a couple of cloves of garlic, crushed with some fine sea salt, and a little finely chopped rosemary. At Christmas I make a delicious orange butter, and of course there is the essential brandy butter too. So many uses and it is a probiotic.