Learning Objective
To learn how to make a simple sourdough focaccia, which can be made using either an ambient proof or a retarded proof depending on your preferences.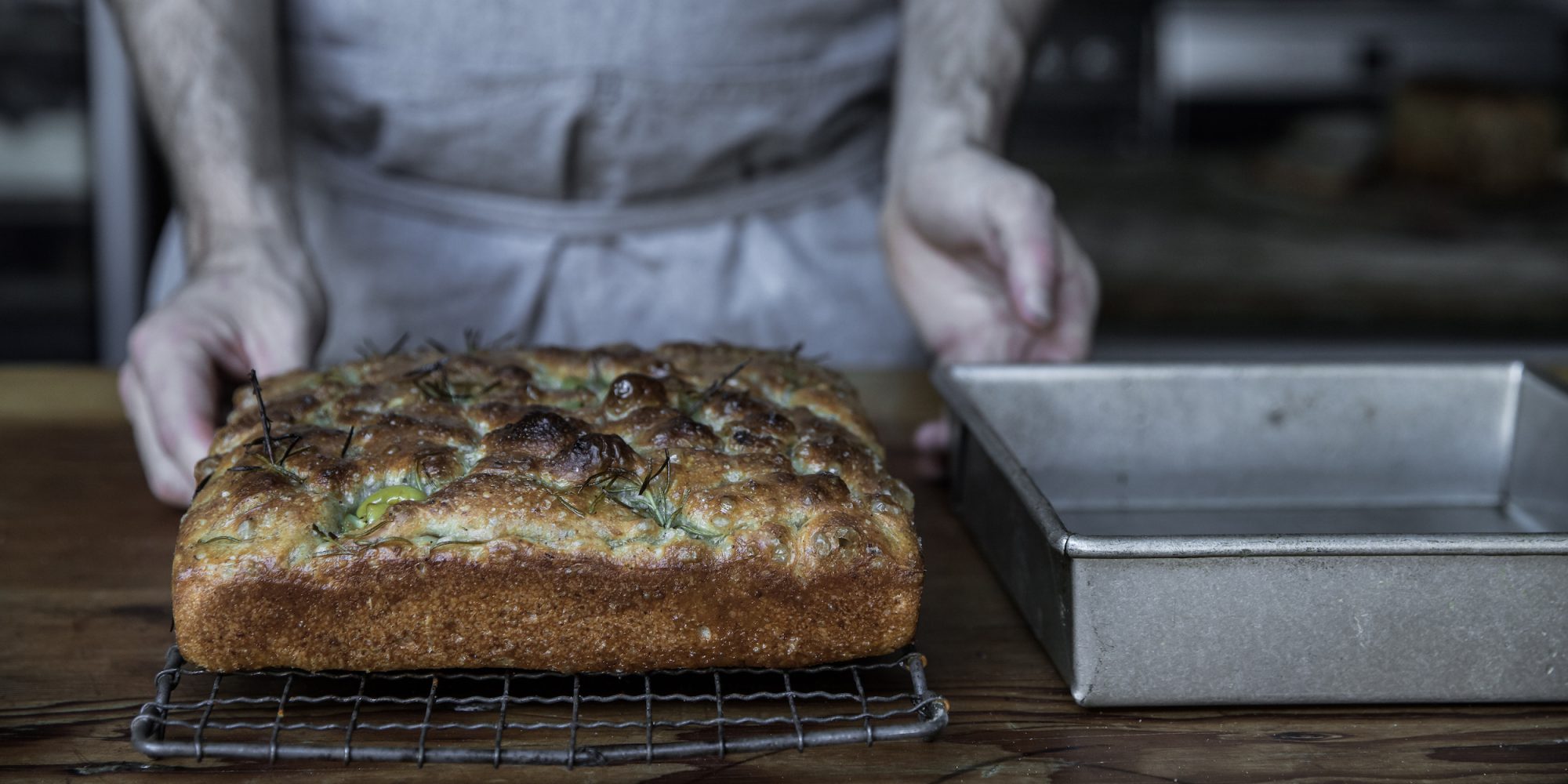 This Olive, Rosemary & Sea Salt Sourdough Focaccia recipe has very kindly been given to us by guest baker and chef Michael James, from his book All Day Baking: Savoury, Not Sweet. It has been amended by Michael to include 30% wholegrain (or Botanical Blend flour) to increase diversity and fibre in line with our BALM Protocol.
Olive, Rosemary & Sea Salt Sourdough Focaccia by Michael James
Makes: one slab, in a 9 x 13 inch deep sided baking tray
This crowd pleaser is a great introduction to bread making as it is very forgiving; it is baked in a pan so no technical shaping skills are required. Kids love to get their hands into the dough, and have fun arranging the toppings. You can top the focaccia with anything you like – I also love it with onions, anchovy, tomato, or roasted garlic and a drizzle of balsamic vinegar.
The dough can be made by hand or in an electric stand mixer, although the dough will be stronger with a mixer. Instructions for both methods are included.
I prefer to use a deep-sided tray so the dough and oil are contained. I also find the edges crisp up better during the bake and it won't dry out after baking.
The key to success here is having a healthy starter fed at least three times before you use it. I feed it the night before and use it to make the dough first thing in the morning. I recommend the following feed schedule:
Day 1

Take 20 g (1 tablespoon) of starter, and feed it with 20 g (1 tablespoon) of water plus 15 g (1 tablespoon) of bread flour. Leave on the side until doubled in size and ripe and bubbly.
Day 2

In the morning feed your starter with 20 g (1 tablespoon) of water and 15 g (1 tablespoon) of bread flour. Leave on the side until doubled in size and ripe and bubbly.
In the evening feed it with 40 g (2 tablespoon) of water plus 30 g (2 tablespoon) of bread flour. Leave on the side until the morning when it has doubled in size and is ripe and bubbly.
This will give you enough starter for the recipe plus a little left over for continuation.
Day 3

When the starter is ripe and bubbly from its feed the previous evening. Start to make the focaccia in the morning following the method below.
Ingredients
Dough
420 g strong white flour
180 g wholegrain flour [or Botanical Blend]
480 g water
120 g starter
12 g salt
15 g olive oil plus extra for drizzling on top
Topping
80 g green and black olives, pitted
pinch flaky sea salt
3 to 4 sprigs rosemary, chopped
Method
To make the dough by hand, combine the flour, 410 g of water, starter and salt in a medium sized mixing bowl. Mix with your hands until you have a cohesive mass, and then scrape down the bowl and your hands. Stretch and fold the dough for around 5 minutes to build up the dough structure. Once it is getting stronger and if it is not too sticky, mix the remaining 50 g of water followed by the olive oil. This should take another 5–6 minutes. The dough will be quite wet and sticky but don't worry; the pan will hold it together.
To make the dough in a mixer, combine the flour, 430g of water, starter and salt in the bowl. Mix with the dough hook for 5 minutes on a medium speed until it all comes together. Scrape down the sides of the bowl, and then add the remaining 50 g of water and the oil. Continue to mix on a medium speed for another 5 minutes until it is smooth and quite elastic. You should be able to stretch the dough with your hands.
Once the dough is mixed, cover it in the bowl with a damp tea towel and rest for 30 minutes at room temperature.
Give the dough a set of folds every 30 minutes for the first 2 hours. To fold, wet your hands and grab a piece of dough on the side of the bowl. Pull and stretch it up over the middle to the other side of the bowl. Repeat this 6–8 times, moving around the edge of the bowl. Cover and rest the dough between folds. It should become very strong and stretchy over time.
After the last set of folds, cover and rest the dough for 2 hours more, ideally at around 24°C–26°C. If it is too cold you can place it into your (cold) oven with a light on and with a pan of hot water at the bottom to create warmth and humidity.
If you want to bake your focaccia the next day cover it with a damp tea towel and place in the fridge. The next day let it come up to room temperature and finish proving as below.
Take a deep-sided baking tray and line it with baking paper or a generous amount of olive oil. Wet your hands and place the dough into the middle of the tray and use your fingertips to gently massage and stretch the dough into the corners, so it is fairly even in depth. Cover once again and leave it in a warm place to prove. The proving time is variable and dependent on the room temperature; if it's cooler let it prove longer, if it's warm you will be able to bake sooner. As a guide it should take 1½–2 hours at a temperature between 24°C–26°C. It's ready when the dough has risen by half and is nice and bubbly and wobbly as you shake the tray. If you poke it with your wet finger it should be soft; if it springs back quickly it is under-proved so give it more time in a warm place.
Preheat your oven to 230°C/445F/Gas mark 8 about 20 minutes before you bake. Place one shelf at the top of the oven for the focaccia and one below with a small shallow tray on it. (Later you will pour a small amount of hot water into this tray to create steam, which helps the dough rise during the initial part of the bake.)
Drizzle two thirds of a tablespoon of olive oil over the top of the focaccia. Oil your fingertips and gently push them into the dough until you can feel the bottom of the pan, leaving space between each press. Scatter with the chopped rosemary and sea salt, and press the olives gently into the dough so that they are still exposed on top.
Place the focaccia onto the top shelf and pour 100ml of boiling water into the tray on the bottom. Bake for 25–28 minutes until golden on top. Turn the tray and remove the steam tray halfway through the bake.
Once baked, leave to cool in the pan for a couple of minutes before transferring to a wire cooling rack.
This olive sourdough focaccia is wonderful to eat still hot from the oven, and will keep well for a few days if you manage to resist eating it all on day one.
Learning Outcome
Using a 70% white and 30% wholegrain formula means that you will have increased the fibre and diversity of a focaccia, which are traditionally made with 100% white flour. You will also learn that you can replace the wholegrain flour with Botanical Blend flour to increase the flavour, fibre and diversity even further.
Focaccia's are a great way to get anyone of any age baking sourdough. They are straightforward to make and absolutely delicious to eat!