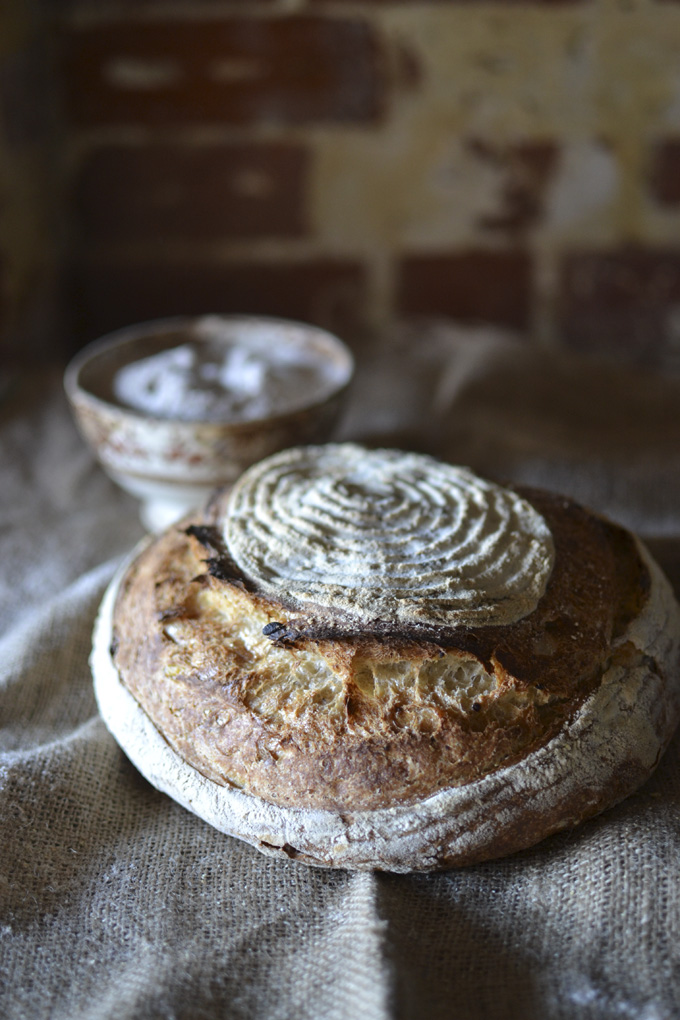 NOTE THIS RECIPE  WAS DEVELOPED AND ADDED TO THE CLUB IN 2014 – It does not follow the up to date format but we have left it here for posterity.
If you have been a little over-enthusiastic with the amount of mashed potato you have made then this recipe is a superb way to use up leftovers. Ironically in Elizabeth David's book English Bread and Yeast (1977), she states that potato bread is "Usually associated with times of grain shortage, or with a need for strict economy in the kitchen."  Certainly, potatoes have been used in bread for hundreds of years and were often used to get a leaven going before the invention of compressed yeast because they are particularly easy to ferment.
In The Science and Art of Bread Making by William Jago, published in 1895 Jago he warns bakers than potatoes are a stimulant and explains that "roughly speaking a potato contains three-quarters of it's weight water and about 15 per cent of starch and the remainder being made up of percentages of proteins, dextrin sugar and other substances."  Jago goes on to suggest using less yeast  "because of the nitrogenous matter effect of potato still acts as a yeast stimulant to the sponge."  He was not wrong, this is a lively dough so to control the rate of the ferment I have pre-fermented the potato. Adding potato certainly makes a beautiful dense moist earthy loaf.  It has a wonderful crunchy crust and tastes sweeter when toasted.  The addition of potato also has the advantage of making you feel fuller than normal sourdough. If you use leftover mash from a previous meal to make this loaf then do remember to alter the salt ration accordingly or you may end up with overly salted bread.
Ingredients
I used 00 flour and Priors wholemeal
To make 2 large loaves
LEAVEN 
120g 1:1 starter
375ml cold water
400g cooked mashed potatoes ( I use organic ones)
275g strong white 00 organic bread flour
100g organic wholemeal flour
___________________
400ml water at 27 (Summer) 28 (Winter) degrees Celsius
1kg strong white 00 organic bread flour,
50ml water
18g British sea salt,
Organic polenta for dusting.
Get your ferment Ready.
8 – 12 hours before you make your bread, put your starter in a bowl large enough to mix the whole recipe in.  Add your water and potatoes and mix well.  Stir in both the 00 and wholemeal flour, cover and leave for 8 – 12 hours
Let this rest in a cool place for 8 to 12 hours. It will double in size.
Make Your Dough
Add the remaining 400 ml of water and white bread flour.
Rest your Dough 30 minutes
Let rest in a cool, dark place for 30 minutes. (This is called *Autolyse)
The flour has the chance to absorb the water fully before you start activating the gluten.
Add salt to the 50 grams warm water and then mix into the dough.  Don't worry if it looks too wet .. it will change. Fold dough rather then stirring.  Cover the bowl with a shower cap then a tea towel. Let rest for about 30 minutes.
1st Fermentation & folds.
The dough will now begin its first fermentation. (The first fermentation takes about 3 to 4 hours depending on the ambient temperature)
Instead of kneading, I allow the dough to develop through a series of "folds" in the bowl during this first fermentation. Fold dough, repeating every 40 minutes.
To do a fold it helps if you dip 1 hand in the water  – it prevents sticking or use a really light Fairtrade olive oil on your hands.  Take the underside of the dough, stretch it out, and fold it back over itself. Rotate the bowl a quarter turn. Repeat. Do 2 full turns of your bowl for each fold. After about 3 hours, the dough should feel aerated. Use your judgment.  On a hot day, it will take less time for the dough get about a 30 per cent increase in volume.
Folds for structure  
Really gently transfer the dough to a floured surface. Lightly dust the dough with flour, and cut into two pieces. Form gently into a balls and
Work each piece into a round.  Then as the tension builds and the dough slightly sticks rotate and drag it. By the end, the dough should have a taut, smooth surface, which will give your bread a good really crust.
With your dough scraper, transfer both to really well-dusted banneton baskets with the smooth side down, Your seam from underneath should now be centred and facing upwards. Pinch together any open dough.
2nd Fermentation
Let rest at room temperature until proved – about 4 – 6 hours.
Bake your Bread
About twenty minutes before you need bake your sourdough, preheat your oven to 220 degrees, warm a 30cm -inch heavy ovenproof pot with a tight-fitting lid.  Personally I favour using a La cloche baking dome.  Dust the bottom of your pan liberally with polenta to stop your sourdough loaf from sticking.
Turn your the first of your sourdoughs one at a time out of the basket gently into your bakeware and using a blade or a sharp knife score. Cover with lid. Return to oven, and reduce oven temperature to 200 degrees.
After 25 minutes remove the lid and bake until crust is deep brown  – don't be tempted to remove early.  This should take about 20 to 25 minutes. Always transfer your loaf to a wire rack. You can tell that is cooked as it will feel light and sound hollow when tapped on the bottom.
Repeat for the baking process for your second loaf.
*Autolyse – This refers to a period of rest after the initial mixing of flour and water and it gives the flour a chance to absorb water without the inhibiting presence of salt and leavening and so helps the gluten and starches to align which leads to better dough development and better flavour as well. . Bread made with autolysed dough are easier to shape and have more volume and improved structure.