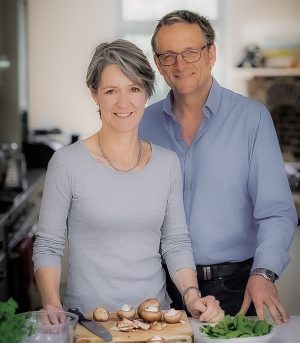 BREAD CHAT
In this evenings Bread Chat on the Sourdough Club I was privileged to speak with Dr Michael Mosley and wife @DrClareBailey who between them have written ten books including 5:2, Blood Sugar Diet, Clever Guts, The Fast 800 and Fast Asleep.
This amazing duo have shaken up the world debunking myths around diabetes and weight loss, and I am so delighted to have been able to have them as our guests. Michael is a well-known television journalist, producer, presenter, and doctor who 9 years ago created the 5:2 fast diet having lost 9 kg and reversing his diabetes. Since then, based on the latest dietary advice, Michael and Clare have helped hundreds of thousands of people to lose weight and regain their health via the The Fast 800 programme.
Clare works alongside Michael helping prevent and reverse diabetes and showing people the benefits of rapid weight loss. She was involved with the Diamond programme in general practice where overweight Type 2 diabetics lost 9.5 kg on average over 3 months, compared with 2.5 kg via the usual dietary advice, and also had a significant reduction in blood sugars and medication.
Clare writes the most delicious and do-able recipes in Michael's books and the companion recipe books, and their latest book is The Fast 800 Easy, written by Dr Clare Bailey and Justine Pattison 
Clare and Michael have very kindly given us one of their Fast 800 Easy recipes to publish for our Club Members. Club Members you will need to be logged in to view Sardines With Tomatoes On Sourdough
LOOK OUT FOR
A series coming up of podcasts for Radio 4, called Just One thing, which starts on Easter Sunday & Lose a stone in 21 days.
This webinar was held on the 11th March 2021