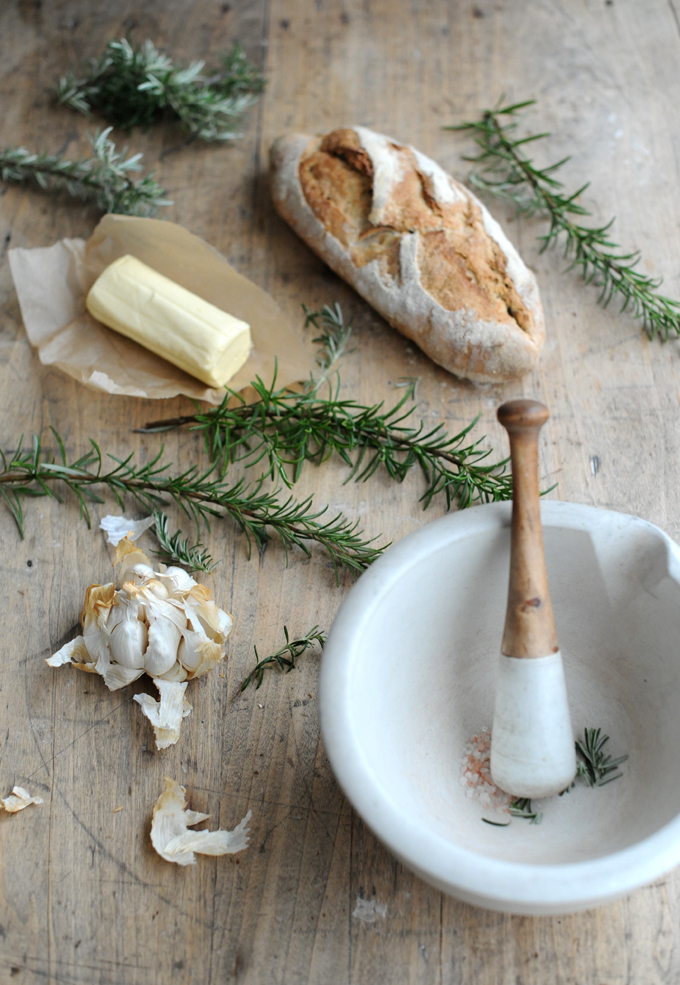 Who says boiled eggs are just for children? Tapping the top of your egg with a spoon ready to dip soldiers into sunshine yellow runny yolks is one of life's simple pleasures.
Don't be fooled by the simplicity of this recipe, getting the soldiers ready, butted and standing to attention, whilst still warm and timing the yolk to be perfectly runny is down to precision timing. The trick is to be buttering your toast just about a minute after the eggs come to the boil.
Serves: 1
Ingredients
2 large free-range eggs, at room temperature
Pinch of salt
1 thick slice of sourdough bread
For the rosemary and garlic butter Sourdough soldiers
1 garlic clove
15 rosemary leaves finely chopped
A  small pinch of course sea salt
2 tbsp grass fed unsalted butter, at room temperature
Equipment
Mortar and pestle
Small pan
Toaster
Method
First prepare your garlic and rosemary butter; pound the garlic, rosemary and salt in a mortar and pestle to form a smooth paste. Mix in the butter and place to one side while you prepare your eggs. Pop your eggs in a small heavy-based pan and fill it with enough cold water to cover the eggs by 1 ½ inches. Add a pinch of salt. Bring the water to a boil on a high heat, and then reduce heat to a gentle simmer for exactly 2 1/2 minutes to give you soft, runny yolks. Meanwhile, toast the bread, then spread one side with the herb butter. Cut into soldiers, ready to dip into the runny yolks.
Remove the eggs from the pan, place into your favourite egg cup and serve.