Partnership Page
Here Vanessa Kimbell of The Sourdough Club and Sarah Kay Hoffman of A Gutsy Girl discuss why they are so well suited to work together:
Welcome to the Sourdough Club.
Let's start with the fact that bread is about sharing. It is about connecting and being in the moment.  It is filling the house with the smell of freshly baked bread that is healthy and baking is about expressing time, love and care that you have for the people around you.  So we decided to work in the same way and share our way of working with the people we work with.  This isn't just a way to make bread. This is a community and we support each other. So I am delighted that you are thinking of joining the Club though Sarah.
Click here to use this code sarahk-10 to get 10% off our 12 Month Community Membership to the Sourdough Club today.
( Please note this is the only course we are able to offer this discount to.)  By joining the Club you are not just learning to bake the healthiest bread, but you are also supporting Sarah and her amazing work.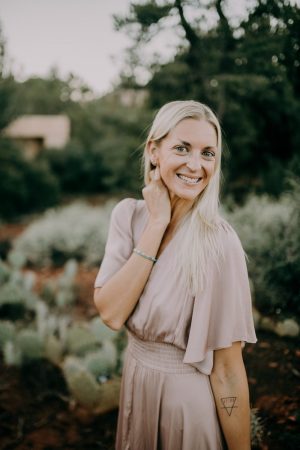 About Sarah Kay Hoffman
As you may already know Sarah is the founder of A Gutsy Girl agutsygirl.com which is an online community geared towards women who are looking for reasonable approaches for healing IBS, IBD, SIBO, and all things gut-focused.
What began as an online journal documenting the day-to-day with one health issue after the next, would become less story-focused; more research and journalistic-based.
Today, Sarah seeks out highly-detailed information and then condenses it in digestible ways for women worldwide.
Sarah Kay Hoffman graduated from the University of Minnesota with a degree in Marketing/English/Mass Communications. After years of struggling with her own health issues and considering there must be more to healing than the answers she was given, she went on to study at the Institute for Integrative Nutrition adding a CHC (Certified Health Coach) to her education.
She began devoting every spare second to studying, researching, (and practicing!) and things gut health and gut healing.
She spends 100% of her career-focused time on A Gutsy Girl doing everything from speaking to companies worldwide on gut health and the inspiration for achieving it to researching, writing, and creating tools like her 90-day gut healing journal, Healing Blooms from Within, for women worldwide. She has a published book, The Leaky Gut Meal Plan: 4 Weeks to Detox and Improve Digestive Health along with several e-books and other guides. Her main book, A Gutsy Girl's Bible and Gut Healing for Beginners e-course have both just released.
When Sarah is not giving back to the Gutsy community, she is likely writing on a more personal level at A Thyme for Milk and Honey athymeformilkandhoney.com traveling, drinking lattes, reading her Bible, enjoying life in a small town, and soaking up all the love that is her husband, three adorable children, Peekepoo and two Great Danes, family, and friends.
A Gutsy Girl teaches, preaches, and lives by the motto: Heal your gut. Heal your life.
About The Club
The Sourdough Club is an online sourdough course…and you will:
Learn to make nutritious and delicious sourdough.
Find out why sourdough is the healthiest bread, and how we follow the 6 pillars of Lifestyle Medicine in our approach to baking, eating and sharing bread.
Discover more than you knew there is to know about the fascinating world of bread, baking, your digestion, and how it relates to your own health and well being.
Learn the techniques that make your bread rise, with a tender open crumb and a burnished crust.
Nourish yourself and your family every day by learning about our 7 core principles of how to bake bread that nourishes and how to eat it for optimal health.
The Sourdough Club is the virtual way of attending The Sourdough School. The Sourdough Club is unique because it goes far beyond what a "normal," online course does, it is a baking community, with support and regular new recipes and articles to keep you inspired.
You can learn everything you want to know about sourdough from home as though you were here in the school bakery with Vanessa Kimbell & her tutors.
Our video tutorials teach you every detail. From how to start a starter, maintain it, to timings, temperatures and shaping to tips on the best way to get an open crumb as well as troubleshooting.
You get to chat with me in the Club's private Baking Forum & in our weekly Live Clinics
You also get The Sourdough  Club Magazine with regular new recipes.
There are Club member discounts, competitions and In Conversation features with bakers from all over the world.
It takes time to master the art of sourdough, but with over 70+ videos this membership allows you to learn at your own pace.
I love this quote by the amazing Dr Micheal Mosely –  it sums up our approach "When it comes to bread not all bread is equal. Some breads are far more wholesome than others. Sourdough eaten as part of a Mediterranean diet is a good choice; I recommend Vanessa Kimbell's simple approach to making sourdough at home, using wholegrain flour, salt and water and time for bread that nourishes."
I look forward to seeing you on the Club…& don't forget to share your bakes on Instagram & in the Club Forum.
Vanessa Kimbell 
Founder of the Sourdough School
Sarah Kay Hoffman
Email: [email protected]
Instagram: @agutsygirl
Speaking, brand partnerships, and all other opportunities: [email protected]