Learning Objective
How to make a simple and nutritious prebiotic, high fibre symbiotic recipe to eat with your diversity sourdough bread.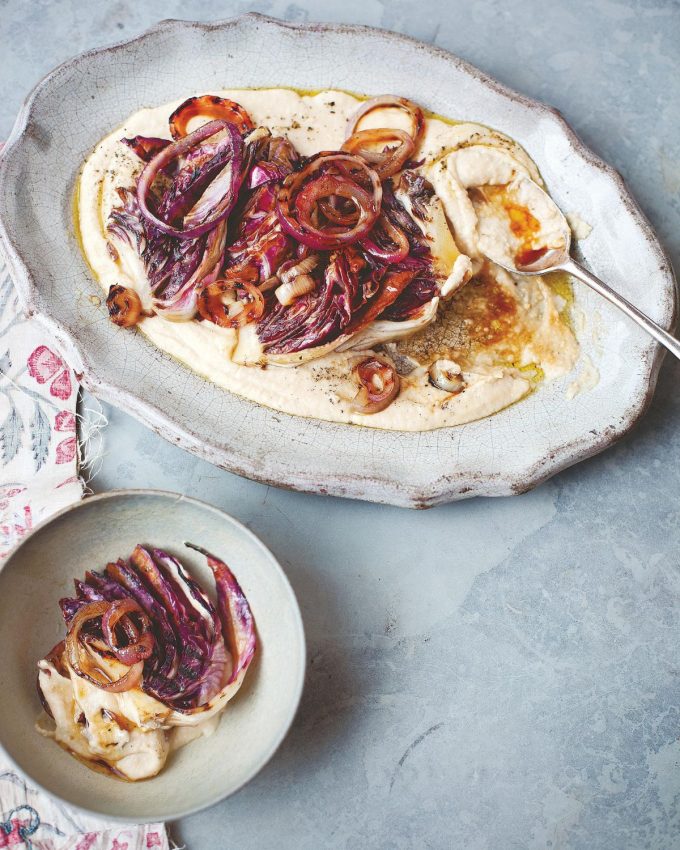 Diana Henry is one of the UK's best-loved food writers with book sales of more than 950,000 copies worldwide. She has regular columns in the Sunday Telegraph and Waitrose Weekend, her work has appeared in BBC Good Food, House & Garden, Delicious and beyond, and her broadcast appearances include BBC Radio 4. Diana has won numerous awards for her journalism and books, including Cookery Journalist of the Year and Cookbook of the Year from the Guild of Food Writers; Cookery Writer of the Year and Cookery Book of the Year at the Fortnum & Mason Food and Drink Awards; Food Book of the Year at the André Simon Food & Drink Book Awards; and a James Beard award. Her last four books – A Bird in the Hand, Simple, How to Eat a Peach and From the Oven to the Table – were all instant Sunday Times Top 10 Bestsellers.
She is the author of 12 recipe books and has very kindly given us this recipe for our Sourdough Club members, from her book A Change of Appetite. This is a symbiotic recipe that is ideal to eat alongside your diversity sourdough bread.
Radicchio is a great spring vegetable for March. It can be eaten raw or cooked to play up its bitter and sweet flavours. Radicchio is a cultivated type of chicory and is a forced crop which is what creates its beautiful colour.
Radicchio, chicory, garlic and onions all contain inulin which is a prebiotic fibre helping to feed specific good bacteria in the gut, which then in turn produce all manner of nourishing substances that improve gut health. White beans also contain good amounts of fibre – around 11g per 100g of cooked beans.
Radicchio and Red Onions on White Bean Puree by Diana Henry
It is truly amazing what you can do with a couple of cans of beans. Here they are transformed into a pretty classy dish (if you choose the right plate to serve it on, it even looks rather painterly). Bitter leaves, sweet onions, earthy beans, the different components work very well together. Eat as a main course or with a range of vegetables. Italian dishes are best alongside: try Beluga lentil, roast grape and red chicory salad, though use watercress instead of red chicory as the leafy component, or Roast Jerusalem artichokes and pumpkin with agresto. It's also good with meaty fish.
Serves 6
For the bean puree:
2 tablespoon olive oil
½ onion, roughly chopped
1 garlic clove, crushed
2 x 400g cans cannellini beans,
drained and rinsed
150ml (5fl oz) chicken stock or water
salt and pepper
4 tablespoon extra virgin olive oil, plus more to serve
good squeeze of lemon
For the rest:
2 large heads of radicchio
2 red onions, peeled
3 tablespoon olive oil
4 tablespoon balsamic vinegar
Method:
For the bean puree, heat the regular olive oil in a saucepan and gently cook the onion until it is soft but not coloured. Add the garlic, the beans, stock or water and seasoning. Cook over a medium heat for about four minutes.
Process the beans and their cooking liquid in a blender or food processor with the extra virgin oil and lemon juice. Taste and adjust the seasoning. You can set the puree aside to reheat later, or serve it at room temperature.
Now for the rest. Halve each head of radicchio, then cut each half into four sections. Trim the base and a little of the white heart from each piece, without letting the sections fall apart. Halve the onions and trim the base of each. Cut each half lengthways into crescent moon-shaped wedges, about 2cm ( ¾ in) wide at their thickest part. (Or just slice them horizontally, if you prefer.)
Mix the regular olive oil, balsamic and seasoning together in a dish and put the onions and radicchio in it. Gently turn over to coat then leave for about 10 minutes.
Heat a griddle pan until really hot and cook the onions quickly until well coloured on both sides. Reduce the heat to low and let the onions cook until they are soft, turning frequently.
Meanwhile, spoon the bean puree into a serving dish, reheating it gently first if you want to.
Increase the heat under the griddle pan and add the radicchio. Let it colour on each side – this will happen very quickly – and wilt. Put the radicchio and onions on top of the bean puree. Season and serve with a little extra virgin oil drizzled over the top.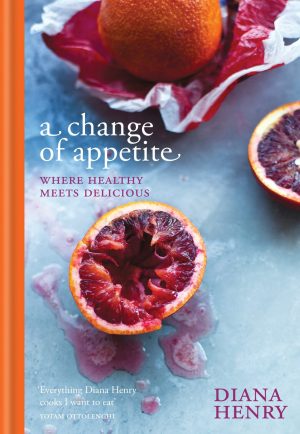 A Change of Appetite by Diana Henry is published by Mitchell Beazley (£30). Image credit (for recipe image): Photography by Laura Edwards. Image credit (for author image): Photography by Chris Terry
You can view and buy any and all of Diana's books here.
Follow Diana on Instagram
Follow Diana on Twitter
Diana attended a Sourdough School course several years ago and wrote this about Vanessa:
"This is a journey. And these aren't just courses. Kimbell wants to change the bread we eat, one loaf at a time. She's the real deal: a total inspiration." – Diana Henry, The Telegraph.
Club members can view all of our Symbiotic Recipes here.
Learning Outcome
How our symbiotic recipes are in line with our Bread Protocol. It is not just about the bread, it is about what you eat with your bread, and who you share it with.