Welcome to the second in our Sourdough Inspiration series. I first met Emily when she attended a course here at The Sourdough School, and I am delighted that  Xanthe Clay has joined up with The Sourdough School to write in inspiring feature for our magazine, about people who change their world by connecting and baking sourdough. Xanthe is the food and travel columnist for the Telegraph and I don't know of anyone better placed to tell these incredible stories, which I hope will encourage you in your sourdough journey.
This story features another former student at The Sourdough School, who followed her dream to work as a baker and is now not just head baker, but also a business partner in one of Edinburgh's best-loved bakeries. It is a story about serving a community and growing a business through knowing your ingredients, learning from mistakes and working as a team.
INSPIRATION: EMILY CUDDEFORD (TWELVE TRIANGLES BAKERY) by Xanthe Clay
Edinburgh's much-loved Twelve Triangles bakery is owned and run by baker Emily Cuddeford and business partner Rachel Morgan. The first, tiny branch of Twelve Triangles (the name is from the Dylan Thomas poem, A Grief Ago) opened in New Town's Brunswick Street in 2015. Over the next four years it was joined by three more café-bakeries throughout the city, with the fifth opening at the end of August on Easter Road in Leith.
There's been no compromise on the quality though, and the dough is still made the same slow-fermented way, with their hand-shaped breads and pastries made over a 3- or 4-day cycle. Loaves include Khorasan, rye, challah and porridge (this is Scotland) and there are sweet and savoury treats galore like gooseberry curd and ricotta cruffins or focaccia with St. Andrews cheddar, red cabbage and beetroot pickle, as well as salads, sandwiches, pies and soups.
The new Easter Road branch has been adapted to fit in with current restrictions, pivoting from the planned eatery to food store and takeaway, with homemade ready meals and fresh organic fruit and veg from East Lothian's Phantassie Farm. There's charcuterie and cheese too, jam and Edinburgh honey as well as soft serve ice cream with homemade toppings – does brown butter and malted miche crumbs tickle your fancy? Whatever you do though, don't leave without one of the doughnuts, reckoned by many to be the city's best.
Why bread?
I started making sourdough about 6 years ago. I was working as a baker but making cakes, tarts and so on – and I wanted to learn more. I began by learning about making croissants, but was introduced to sourdough at the same time and completely fell in love. I started to move more towards bread and sourdough and away from cakes. Part of the reason I fell for sourdough was learning to make something for the community I lived in which was an everyday item, not just for special occasions, and knowing that by producing sourdough you can be giving someone the very best to nourish them and their family. This meant I could be doing something I loved as well as making something which could benefit the people around me.
When did you bake your first bread?
I think I first made bread in a bread machine with my mum when I was teenager, but looking back on that now it is so different in process to making sourdough that I find it amazing that all these things are simply classed as bread.
And your first sourdough?
When I was about 8 my mum had a friend who was a nun, and I vividly remember her giving me a pot of something which she explained was alive, that I must look after it and feed it then it would grow and I would be able to use it to bake. Sadly, at the time I had no understanding of sourdough and instead lived in fear of this creature in the corner of my kitchen, and I refused to feed it as I was afraid it would continue to grow and we would not be able to contain it in our house. It genuinely wasn't until I started making sourdough 6 years ago that I finally understood what I had been given and felt some sadness for what I had eventually thrown away.
Tell me about your first sourdough loaf.
The sourdough I first started making was based on Andrew Whitley's books and a 2-day course with him. It was using mostly rye starters with a high percentage of sourdough in your final loaf. They had a very deep sour flavour and a damp slightly waxier crumb which I had originally associated with sourdough. These tasted great but weren't the most family-friendly loaves of bread, with a low volume and strong taste. We needed to find something which people could use for their children's sandwiches as well as eating alongside soup, cheese and so on.
Were there any baking hurdles you had to get over? 
There have been a lot of hurdles. I never understood the importance of flour before baking bread. Of course, you always want the best and freshest ingredients you can get your hands on. But in the world of sourdough, switching from one brand to another can have a catastrophic effect if you do not know to be aware, and watch your mix to check its strength and hydration.
At the start of the business we developed our recipes using certain flours and one week we ran out, so I ordered flour from another company. Like our original flour, it was from a UK mill producing high quality flour. I came in on the Saturday morning to bake everything off, and both bread and pastries came out like flying saucers. I had not understood the importance in how different flours need different treatments, some need a lot of mixing to build strength which allows you to shape everything and for it to hold its structure especially after an overnight cold ferment.
I will never forget sitting on the floor of the bakery surrounded by all these completely flat baked goods, having to ring our wholesale customers and my business partner to explain we would have nothing to sell. After that we realised how much there still was to learn and that we would most likely be learning for the rest of our lives.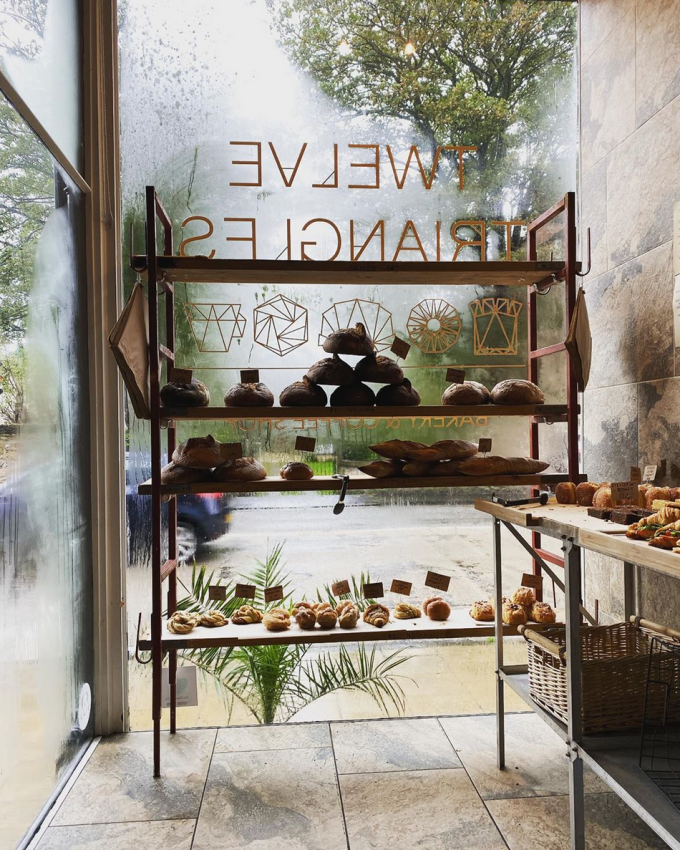 How did you get started with baking professionally?
I have always loved baking since I was a little girl. I suffered from chronic fatigue syndrome when I was a teenager so I had to leave school at a very young age, and my education came from reading and watching cooking shows. I spent a lot of time in the worlds of Nigella Lawson, Nigel Slater and Delia Smith, finding comfort and something to focus on within their food and cooking.
As I recovered, I ended up with a choice of whether to follow art or baking. I opted to study fine art painting at university in Brighton, but I fairly quickly realised that my interest and free time was always spent baking and with food. I supported myself through my final year baking for a local shop and just as I finished my degree, my dream job baking appeared back in Edinburgh so I moved back home to begin.
I started the job on a part-time basis and proceeded to become full time, then the bakery manager and finally business partner. This would not have happened without the support from my business partner Rachel who has allowed the business to grow and adapt with our ever-increasing hunt for new skills.
You've grown to several venues now – how many staff do you have?
We've just been opening our 5th shop whilst I was heavily pregnant so racing against a clock to try and get it organised. This year has been by far the most unexpected of my life. We have 15 full-time bakers now as well as chefs and front of house staff so in total we are employing more than 35 people, which will most likely increase as we open our newest site.
What were the challenges of growing the business?
People are probably the greatest challenge and also reward, trying to build a team of people who understand and love the products and business you are trying to grow. We have had some good and some really bad times which is impossible to separate from your home life. When something goes wrong it feels intensely personal.
Right now we have a spectacular team in the bakery. The difficulty we face is making sure that as the team grows, we don't lose the dynamic that we have built. The other challenge that I am acutely aware of whilst growing the business, is that we continue to make our products, especially our sourdough and pastries, better than before. A lot of our recipes have evolved from the ones we started with, constantly altered as we learn new skills, work with new producers, or welcome new staff with their own ideas.
Do you have a signature bake or one you are especially proud of? 
Picking a signature bake is a really difficult one. It probably depends on my mood as to what I am most proud of but overall, it would be sourdough and learning how to use it. I love making pastries as well but there is some kind of magic when it comes to making sourdough. Every single day is different and so many factors change your final loaf. The atmosphere in the bakery, the sack of flour (it changes every time they mill), how long you choose to mix, your shaping, to how you score – every decision you make as a baker is reflected in each loaf and I don't think I will ever fall out of love with that.
What would you say to yourself if you could go back in time? 
Not to panic, and that you will get to where you are meant to be. There are probably faster ways to get to the career I'm in now and certainly cheaper ways, if I hadn't done my degree. But I like to believe that everything that has happened to me needed to and for all the ups and downs I wouldn't change any of it.
Any advice for people wanting to follow their dreams with a new business? 
Starting a business is exceptionally stressful and I was incredibly lucky that Rachel dealt with what I think were the most stressful parts. Having a partner who you can just talk to is invaluable. We spend hours each day talking and running through ideas, dealing with complications, making lists and reminding each other of what needs to be done. It also means when something in life crops up and you need some personal time, then someone has your back and can keep the business going.
Running a business becomes fairly all-consuming but it also has the greatest rewards. Being able to build relationships with staff, customers and suppliers as well as having space to bake and experiment is honestly something I never thought I would have. I love it all.
Any favourite flours?
We work with 5 different mills to try and make the best bread we can and they all have their own benefits. The one we use to feed our starter, so the flavour runs through all our loaves, is Yorkshire Organic Millers stoneground flour. Grown and milled in Yorkshire, their white flour is an 85% extraction so it carries much more flavour and nutrients than your typical white flour. It is a beautiful base to have our loaves start from.
Talk radio or music as you bake?
Mostly music although when I did the nighshifts alone I would listen to the shipping forecast. There was something very rhythmic and comforting about it which matched the pace of baking.
To contact Emily Cuddeford at Twelve Triangles
Twelve Triangles cafés/bakeries:
Portobello – 300 Portobello High St, Edinburgh, EH15 2AS
Brunswick – 90 Brunswick St, Edinburgh, EH7 5HU
Dalry – 50 Dalry Road, Edinburgh, EH11 2BA
Duke Street – 148 Duke Street, Edinburgh, EH6 8HR
Easter Road – 22-24 Easter Road, Edinburgh, EH7 5RG
All photographs courtesy of Twelve Triangles
LIVE EVENT WITH OUR IN HOUSE GP FOR CLUB MEMBERS ONLY
Ok .. so this is a first and you will have to bear with me because I am not amazing at Zoom however ... I have 100 places on our first ever LIVE webinar with our Sourdough School in-house GP, Dr Alex Davidson and I on Tuesday next week.
Please note: This is an event for members of The Sourdough Club only.
You are invited to a Zoom webinar:
When: Oct 13, 2020 15:00 BST
Topic: Sourdough Bread Making & Metal Health With Our In-House GP
See the link below for an introduction to the webinar:
https://www.instagram.com/tv/CGFgs7CHHKv/?utm_source=ig_web_copy_link

Email info@thesourdoughclub.com to book your place for the event.
You can also let us know in the comments below the post in the forum if you want to attend and you can post any questions here as well – please stay on the topic of bread, mental health and the gut microbiome.
I look forward to seeing you there!
Vanessa
xxx
We will record this webinar and add it to the Club a week or so later if you can't attend the event.