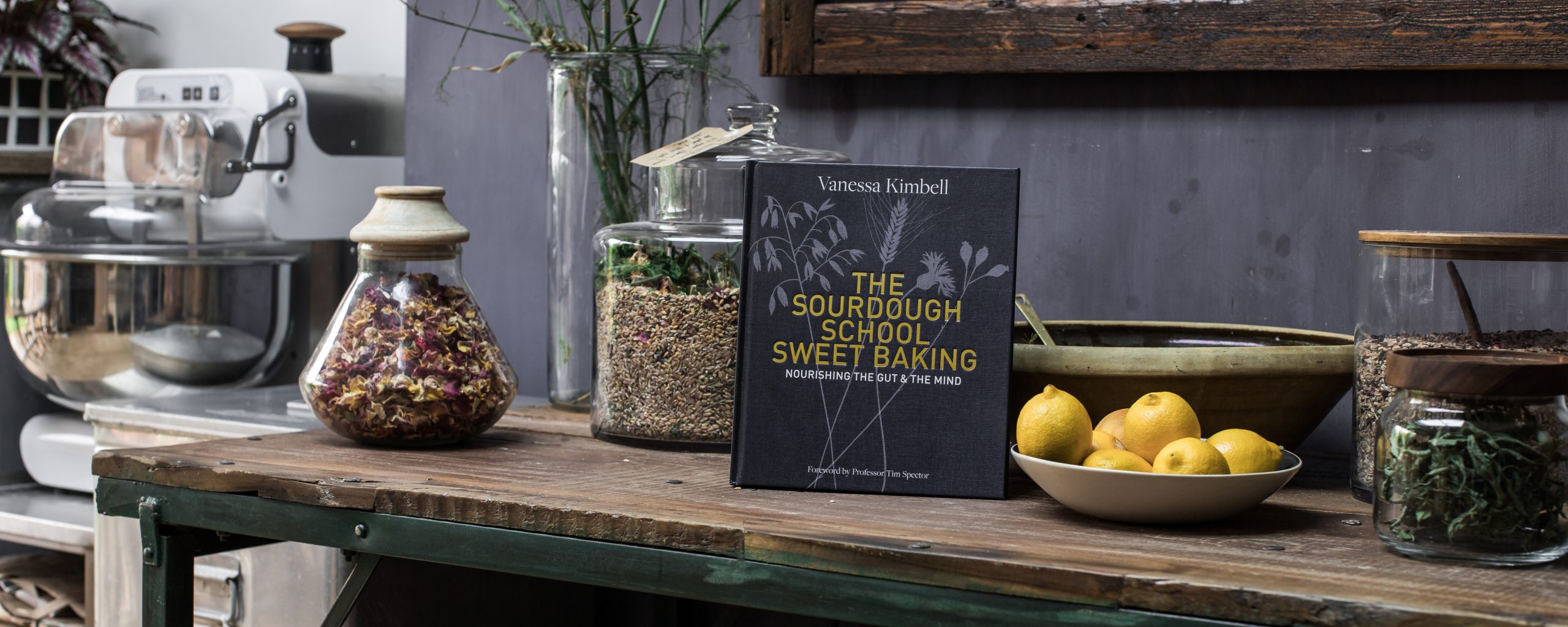 The new book is out.
The Sourdough School Sweet Baking is the follow on from The Sourdough School bread book. I don't think I'd be exaggerating by saying that it is a groundbreaking approach to sourdough. The book is about baking sweet sourdough, with traditional recipes such as doughnuts and Danish pastries, as well as more unusual recipes such as Yemarina yewotet dabo (an Ethiopian honey bread) and jalebi, a sweet treat I learned to bake many years ago with a Gujarati chef. But the book is about far more than just sweet sourdough recipes or baking tips and techniques.
Nigella's reaction?  "It is impossible to read this book without wanting to scuttle off into the kitchen." & Tim Spector... the worlds leading expert in the gut microbiome? "Vanessa's work on sourdough and the gut microbiome is changing the way we think of food, health and baking." – Tim Spector, author of The Diet Myth & Spoon-Fed
Most people understand sourdough as bread, but fermenting transforms flour, and this book extends our knowledge on how to use sourdough to makes cakes and sweet bakes combining baking techniques taught here at The Sourdough School for over a decade. We share in detail the core principles of our approach to developing recipes and botanical flour blends, using cutting-edge research papers that have established the links between food, the gut microbiome and mental health.
All the research for the book is available on our study database. I am absolutely delighted that Professor Tim Spector wrote the foreword. Tim is the head of Genetic Epidemiology at King's College London, and the most cited scientist in the world. I often describe Tim as the Mick Jagger of the gut microbiome world; his work on understanding the gut microbiome has changed the world.
*Photos taken from The Sourdough School Sweet Baking Book by Vanessa Kimbell. Photo by Nassima Rothacker, published by Kyle Books. Foreword by Professor Tim Spector.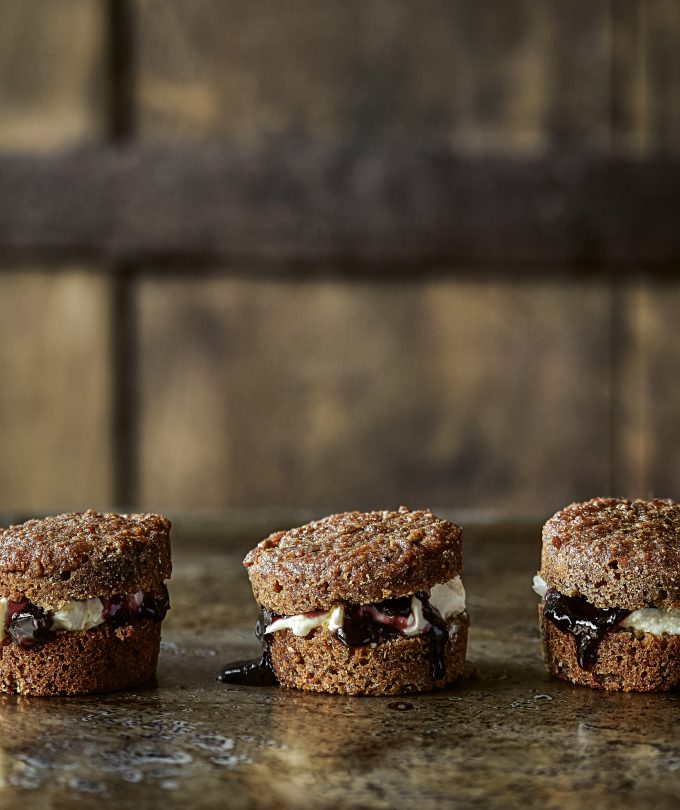 The Book
Nigella on 'deliciousness':
So often, books that are heavy on science are perceived as complicated, but it has never been more important than right now to understand how what we eat affects the way we feel. I have purposefully included very easy recipes, that slot in perfectly to the routine of sourdough bread making that will build confidence. Nigella summed up the easy, utter deliciousness of the recipes, with her reaction saying, "It is impossible to read this book without wanting to scuttle off into the kitchen."
Over the coming weeks, we will be sharing more about this approach with members of The Sourdough Club, with exclusive recipes, tips, techniques, and extending tutorials on how to create and mill your own botanical blends, all of which will accompany the book.
Shopping List
As this month sees the launch of The Sourdough School Sweet Baking, it's worth purchasing eggs, sugar and fats such as butter and sunflower oil. With the introduction of our botanical blends, diversity is key, so it's a great idea to begin increasing the range of grains, legumes, seeds, nuts, and dried herbs and flowers in your cupboards. Several of the new recipes feature berries, as they are high in polyphenols, and now is the perfect time to get out foraging for some blackberries!
Vacancy for a sourdough baker in Glastonbury
Would you like to run a bakery in Glastonbury? This is a new and amazing opportunity.
Lucy Wyatt owner of Benedict St Kitchen has purchased a building in the town which now has two kitchens, one of which she would like to run as a bakery. The other kitchen is for a cafe business which she is developing - there is a big room in the building with space for 50 covers.
Lucy would like to be able to include fresh bread as part of the cafe offer, as well as sell directly to the public. She is also very interested in heritage grains and would like eventually to supply her own from land she has elsewhere in Somerset.
In the meantime there is a fantastic opportunity for making and selling sourdough in Glastonbury. It is possible, depending on start date, that she might be able to offer accommodation on-site too.
Other details - like hours and pay - can be decided to suit. Ideally she would like to come to an arrangement which rewarded whoever by encouraging them to build the business with a share of sales.
If you are interested in this position please contact Lucy Wyatt directly on [email protected]
This Month's Competition to win a signed copy of the Sweet Sourdough Book
Deadline: 30 Sep 2020
This month, we are delighted to be giving away two signed copies of Vanessa's new book, The Sourdough School Sweet Baking - one for you and one for a friend. All details of how to enter can be found on our competition page. Good luck!
There are a whole host of Instagram Lives this month...but don't miss Tim Spector
Date & Time: 7 Sep 2020 @ 8:00 pmGuest: Professor Tim SpectorWatch it here: https://www.instagram.com/sourdoughschool/
The Sourdough School Sweet Baking – a conversation between one of the world's leading scientists of food and nutrition, microbiome expert Professor Tim Spector & Vanessa Kimbell
Monday 7th September 8pm
Join Vanessa Kimbell as she will (virtually) welcome Professor Tim Spector back to The Sourdough School again. Tim will return as a special guest invited to discuss Vanessa's newest book The Sourdough School Sweet Baking: Nourishing the Gut & the Mind, which includes a forward written by Tim. Last month Tim published his own new book Spoon Fed: Why almost everything we've been told about food is wrong – so Vanessa will be asking more about its themes of why so much we understand about nutrition is wrong.
Please check out our events page and Instagram accounts for information on all other Instagram Lives this month, including one with lifestyle coach and weight-loss expert Louise Parker on Wednesday 9th September.
Buy the Book!
Order your signed copy of The Sourdough School Sweet Baking: Nourishing the Gut & the Mind via the link below.
Find out more about The Sourdough School Sweet Baking: Nourishing the Gut & the Mind
Enjoy baking from the new Sweet Sourdough book, and don't forget to share your bakes with us using #sourdoughclub and #iamamember. Remember to keep an eye out on the events pages and on Instagram for the exciting Lives this month.
Happy baking! x