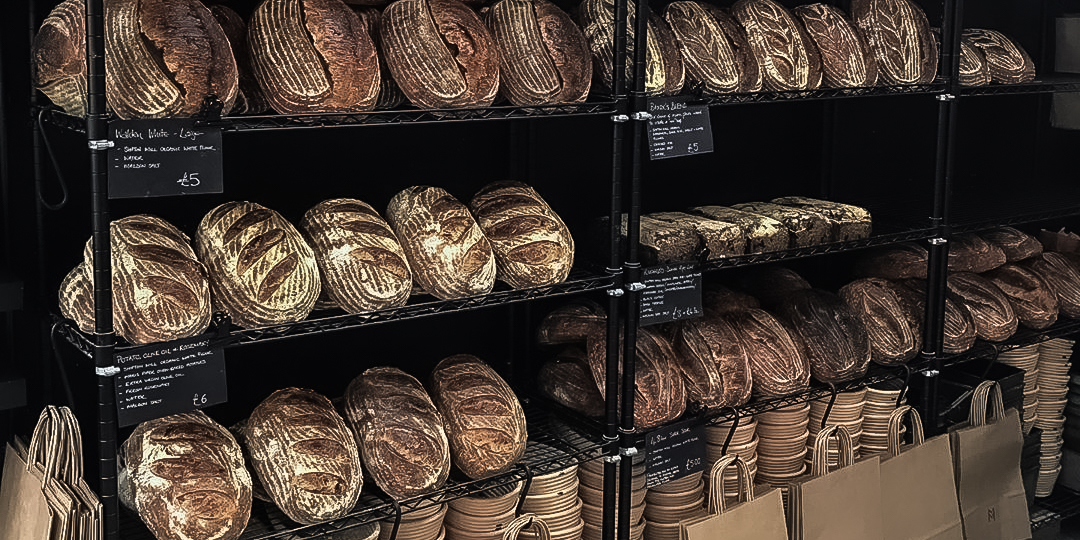 Welcome to the first in a new series of our magazine. I've called these issues Sourdough Inspiration, and I asked one of the most inspiring women I know, Xanthe Clay, to write about people who change the world by baking sourdough.  You may know Xanthe as the food and travel columnist for the Telegraph.  I don't know anyone who is better placed to tell these amazing stories, which I hope will give you goosebumps as you read.
This story is about a former student at The Sourdough School, who walked out of her 9-5 office job to start a bakery. Someone who was inspired by The Sourdough School and is now an inpsiration TO The Sourdough School.
This story is about following your dream. From the first loaf to a bakery and beyond. It is a story about community, about determination and about a connection to the soil.
INSPIRATION: MEGAN CHARNOCK (MINI MISS BREAD) by Xanthe Clay
Mini Miss's chic black fronted bakery is Saffron Walden's go-to spot for artisan sourdough, as well as fabulous pastries - the knotted cinnamon rolls have a loyal following, and you can eat one sat the window counter with a cup of Wood Street coffee. House specialities include Chocolate Sourdough and Walden Wicked, a sourdough studded with cheddar and jalapeño chillies, but you can also pick up treasures like local asparagus, Bungay Butter from Suffolk's Fen Farm and sourdough cookies (made with the excess starter) studded with Pump Street chocolate.
Why bread?
I saw a gap in the market. I live in a lovely market town in Essex called Saffron Walden and although at the time, back in 2016, there was a limited number of food shops and a couple of more traditional bakeries there wasn't anyone doing high quality, organic sourdough as I'd seen becoming the norm in other towns and cities. I wanted a piece of the action and to create the sort of bakery I'd want to buy bread from.
When did you bake your first bread? And your first sourdough? How did it go? Were there any baking hurdles you had to get over?
My first loaf was in 2016. I'd never been a baker before that, nor much of a chef. I'm more of an eater! But I'd seen this gap in the market and knew I wanted to be the person to fill it, so I started playing around with dough... originally using Richard Bertinet's books and then when I started looking at courses I came across Vanessa and the Sourdough School. The more I was reading about sourdough the more I was intrigued.
I got my hands on some starter (after a few failed attempts at making my own) and attempted a loaf. It was pretty disastrous. Baking sourdough is SO different to making any other type of bread and you can't just follow a recipe to the letter and expect it to work out perfectly. You have to learn to read the dough, understand it, know how to tweak it and how to adjust your method depending on a number of variables that can impact the result e.g. time, temperature, the weather, your fridges, your flour, your mood. But there is no better way to get better at sourdough than making mistakes. It's how you learn and how you improve. I'm still learning every day now, four years and thousands of loaves later.
How did you get started with baking professionally? What were you doing before?
I worked in theatre and events until 2016. I trained as a Stage Manager and then when I had children I moved into theatre programming and then corporate events. But it soon took its toll and I knew I wanted to get out of the office, 9-5 environment. Even more, I wanted to be my own boss. I realised that the only way I could really feel successful professionally was by being my own boss so I could give the green light to all my ideas!
So in mid 2016 I walked out of my job, determined never to return to that sort of a life. I didn't know what I wanted to do but knew I was going to start my own business. I spent a good few months working in a local cafe which was a great opportunity to brainstorm and get a better idea of the local food scene and local food demands whilst trying to work out what on earth I was going to do. It was a scary time going from two salaries down to one and a tiny bit, but also very exciting knowing something great was just around the corner.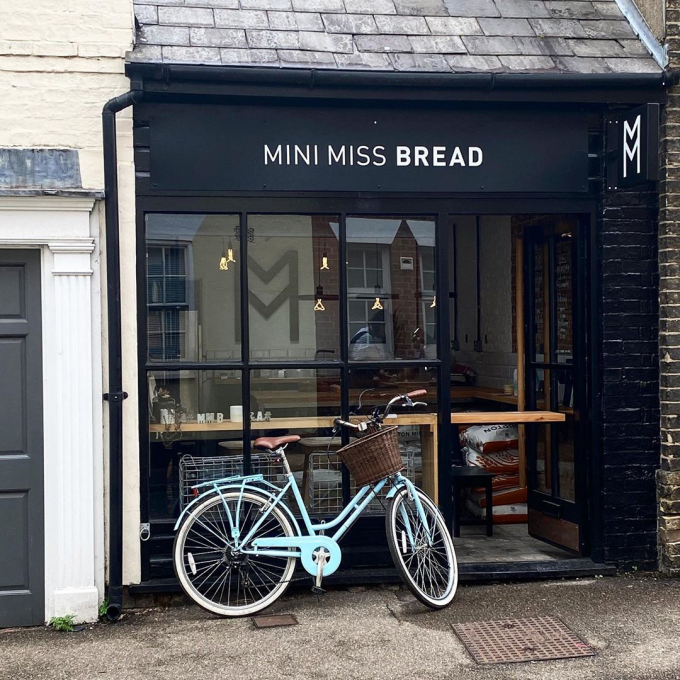 Tell me about Soil to Sourdough - and why you are inspired to get your own grain growing.
It's so exciting. I came across Duchess Farms last year and was excited to see a farm just down the road from Mini Miss Bread growing ancient grains using regenerative methods. Duchess Farms were doing a crowdfunding to raise funds to buy equipment to mill all their grain on site and their top reward for donations was a field of your own grains. I knew I wanted to support their efforts but when I saw this as one of the rewards I couldn't stop thinking about it. But I didn't have £3000.
I then had a lightbulb moment one night whilst lying awake (how all my biggest MMB ideas have come to me) where I thought we should involve our customers to raise the funds and in return they'd learn about ancient grains and this amazing way of farming. And in a year's time they'd get some fantastic bread made with 'their' ancient grains grown and milled just down the road. How extraordinary it would be to have the opportunity, for just £10, to see the whole process of your loaf of sourdough being made, from the inception all the way through to planting, harvesting, milling and baking, all within a stone's throw of your town.
We took the plunge, and invited customers to contribute to our own mini crowdfunding campaign. The response has been so incredible that we've managed to bag two fields to grow two different grains. The first loaves will be ready in the autumn of 2021.
 You are never sure whether it's just you that finds this stuff exciting and inspiring but it seems our customers do too. It gives me real hope for the future of food production in this country.
What would you say to yourself if you could go back in time?
Be brave. Believe in yourself. Follow your gut. Don't listen to your parents (!). Trust that everything will be ok. Surround yourself by people that inspire you and 'get' you, not those that wrongly think they know what is best for you or discourage you from following your dreams.
Any advice for people wanting to follow their dreams with a new business?
All of the above! Don't wait for the right time, there never is the right time and don't wait for someone else to help you get where you want to go. It rarely, if ever, happens. You have to do it for yourself.
AND to understand that you can live on a lot less money than you realise. When I quit my 'real' job, a few months later my husband was made redundant. We thought we were living on shoestring already and yet we were forced to cut back even further. It seemed impossible and yet it was fine. When you're doing something you're passionate about you don't need loads of cash to buy material things and holidays to make you feel better about a job you hate.
Favourite flour?
Well obviously I've loved playing with the Duchess Farms Heritage Grains Flour but I also love the Dark Malt flour from Foster's Mill in Cambridgeshire. And I love experimenting with flours to create new combinations and flavours, together with additions such as seeds, dried fruit, cheese, beer, tinned tomatoes even. My current favourite add-in is the malted wheat flakes from Hodmedods, although they do crazy things to the fermentation so that's been another big learning curve.
One more question - talk radio or music as you bake?
Both. I use time on my own in the bakery to either indulge in musical theatre (which drives everyone else mad) or I always have a long list of podcasts to work my way through. I'm not a big fan of audio books though as the narrator's voices usually annoy me. I like to imagine by own character voices. My favourite podcasts include: Courier Workshop, Monocle Entrepreneurs, TED Talks, and also Emma Guns, for an escape from business talk.
Photo credits: all photographs courtesy of Megan Charnock @minimissbread
To contact Megan Charnock
@minimissbread

Artisan Bakery & Shop: 

2a Church Street, Saffron Walden CB10 1JW
Please join us chatting live about Megan's bakery on Instagram.