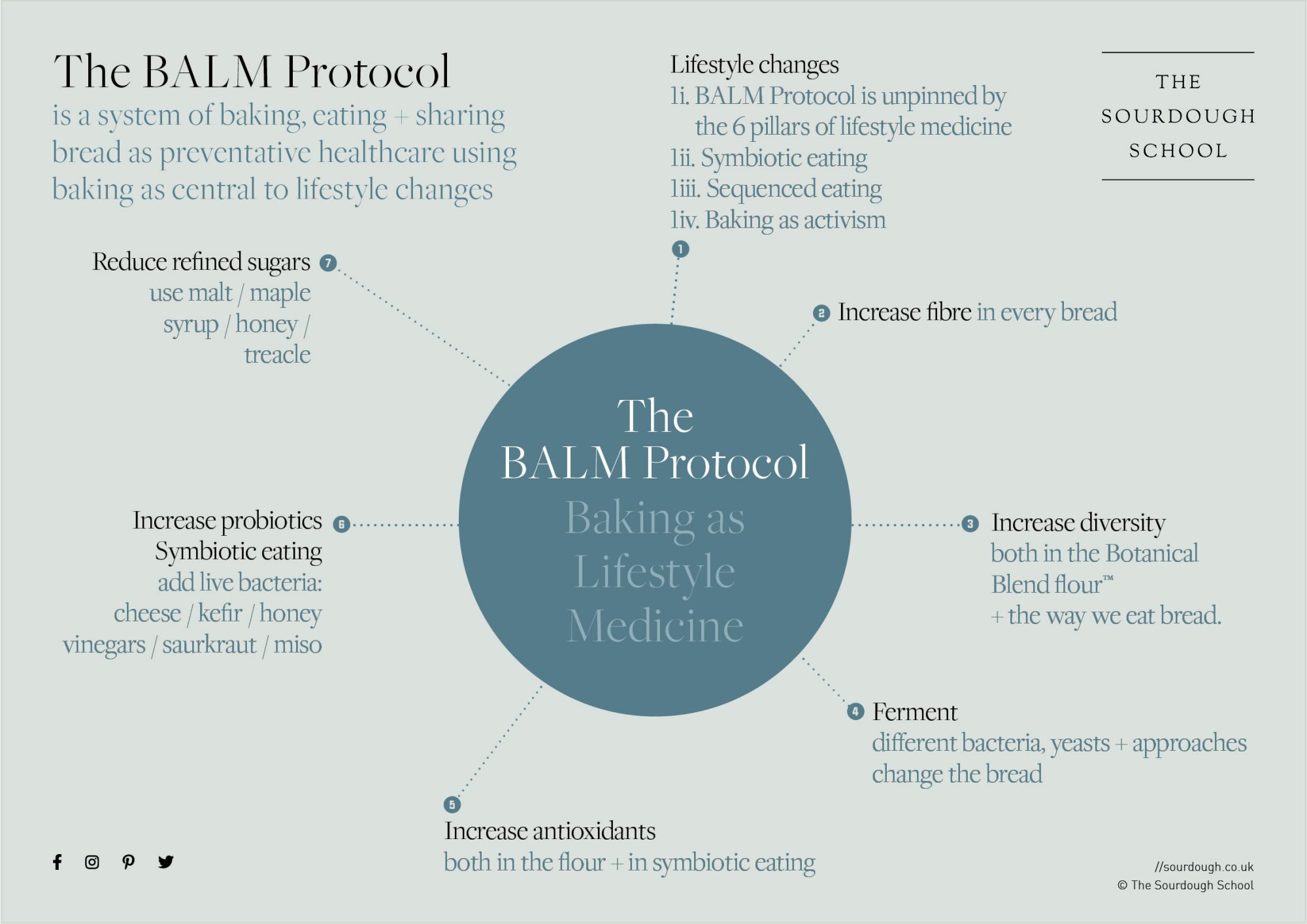 The foundation of everything we teach
We don't just teach people to make bread; we empower them to connect the way they bake and eat bread to the way they feel, both physically and mentally. The knowledge and skills you'll gain are not just for your own benefit. They also empower you to contribute positively to the health and well-being of those around you. Whether you share a freshly baked loaf with a neighbour, teach a loved one about the gut microbiome, or share your new baking skills with friends, you're participating in a form of activism that fosters change, one loaf at a time.
How?
Everything you will ever learn on the sourdough club and school follow BALM Protocol. This is the structure that forms the base of how you will learn to bake and eat bread to nourish your gut microbiome.
Our breadmaking uses an evidence-based approach to effectively prevent, manage and help to treat lifestyle-related chronic conditions and therefore can be considered lifestyle medicine. In this way, our courses are very different from all other sourdough courses. It is this protocol that makes our work different from every other bread-making course you could ever do.
Each and every recipe, every technique, and the foundation of everything that we teach and share is based on this protocol.
All recipes are backed up by an open 700+ categorised database that you can dip into though out the lessons to read more.
The protocol was tested using dietary intervention studies that Vanessa conducted. The small cohort followed this bread protocol for three months. Each participant had their gut microbiome tested before and after. The results? We saw increases in the balance of the microbes that produce butyrate, associated with lowering inflammation.  All the participants reported feeling better, and as part of the study, we measured anxiety scores. We saw 9/10 scores improve, and one remained stable.
Why?
"Because in the end, the only thing that really matters is the way you feel and in turn, how you make other people feel."
Vanessa Kimbell, Founder of the Sourdough School & Club
Find out more about our values here and read more about Vanessa Kimbell here.