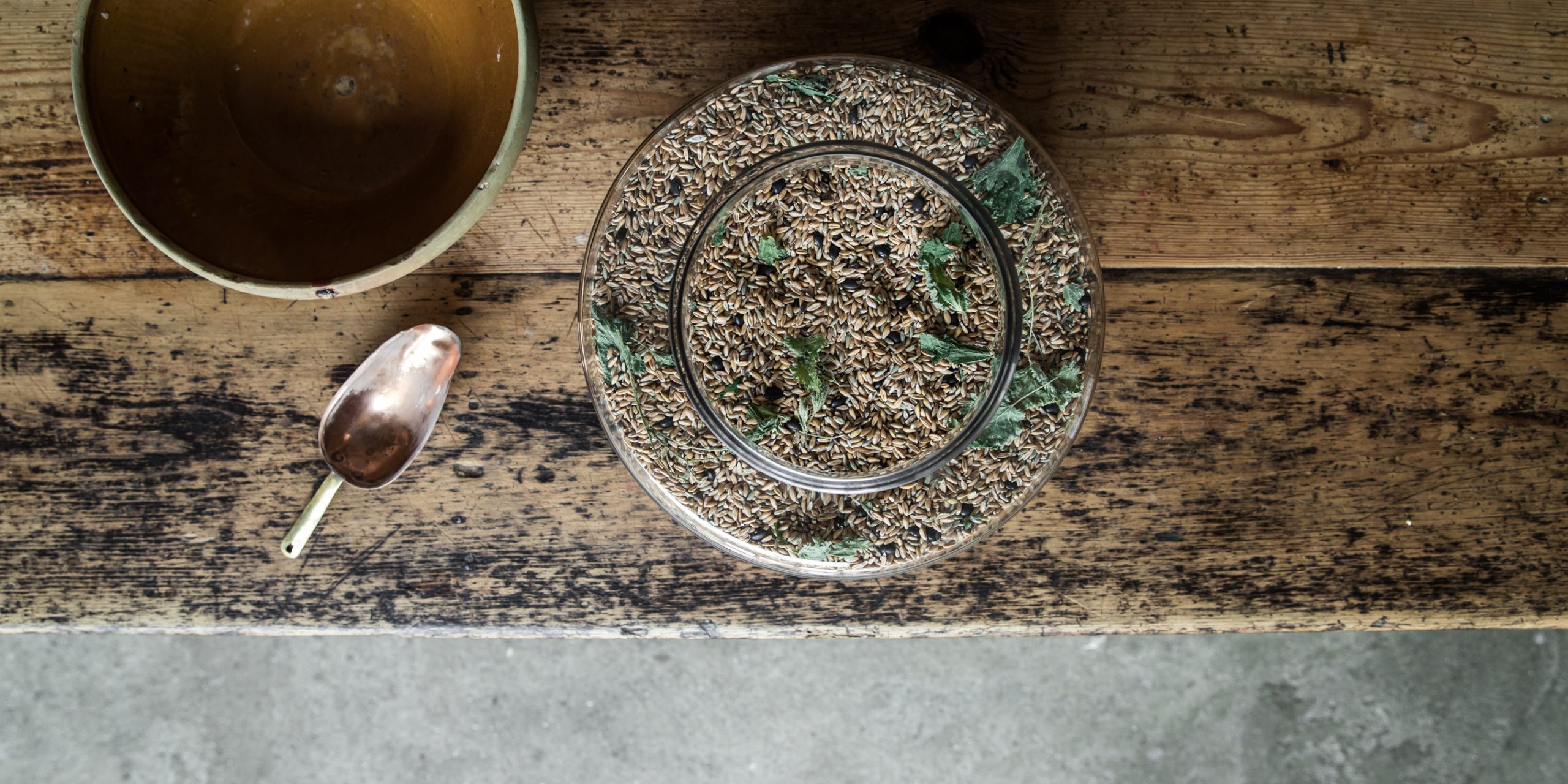 You can now buy our very own Meadow Blend in our shop
Blend No. 2 our Meadow Blend has become the base blend for many of our other botanical blends. It was imagined by Vanessa as she was standing in a field looking at the diversity around her, the hedgerows and what was underneath her feet. Picture a mix of heritage wheat, intermingled with wild oats and barley, and a smattering of beautiful red poppies and flax blowing in the breeze – this is how our crop fields used to be before agricultural chemicals were introduced.
Blending botanicals at the School came about as a result of the desire to increase the diversity in our diet, to go back to how things used to be. The more diverse our diet the greater range of 'food' we are able to provide to all the different good bacteria in our gut microbiome. And the more food and the wider the range of food they receive from us the more they flourish and multiply. The greater the levels of good bacteria we have the stronger our immune system and the healthier we are. And research has clearly shown the healthier and happier our gut, the more our mood improves.
If you take a classic sourdough loaf it will contain about three ingredients – flour (white and wholemeal), water and salt. That gives it a diversity score (the total number of ingredients) of 3 (water doesn't count). Yet if you bake our Classic Sourdough Boule for example and replace the wholemeal flour with freshly milled Botanical Blend No. 2 your diversity score increases to 11 – that is eleven different types of food in each slice. Serve your sourdough with a soup and some pickles for example and you could easily be consuming 20 or more foods just for lunch!
This is we believe ground-breaking in terms of sourdough – we are attempting to change the paradigm of bread. Our goals some time ago were to replace commercial bread with sourdough bread as the nation's favourite and the far superior and healthier option, and to teach the world how to make sourdough. This is still of course and always will be vital to us, but now we are changing sourdough to be its absolute best.
The increase in diversity not only makes your gut happy but the depth of flavour that it brings to your loaf is almost indescribable. You have to experience it to understand. We hope it blows your mind and your palette as much as it does ours.
At the school, we use Mockmill grain mills to mill our blends fresh.  We use the Mockmill Pro 200 at the school for faster milling, however Mockmills most affordable model the Mockmill 100 is also ideal. Here you can read all about Mockmill and how to mill your own flour
If you are unable to save up for or purchase a mill you can still create blends – see How to create Botanical Blend No. 2 without a mill
Ingredients
15g Dried peas
5g of 2 or 3 different dried edible meadow flowers of your choice, such as cornflower, mallow flower or oregano flowers
A small handful of dried nettles