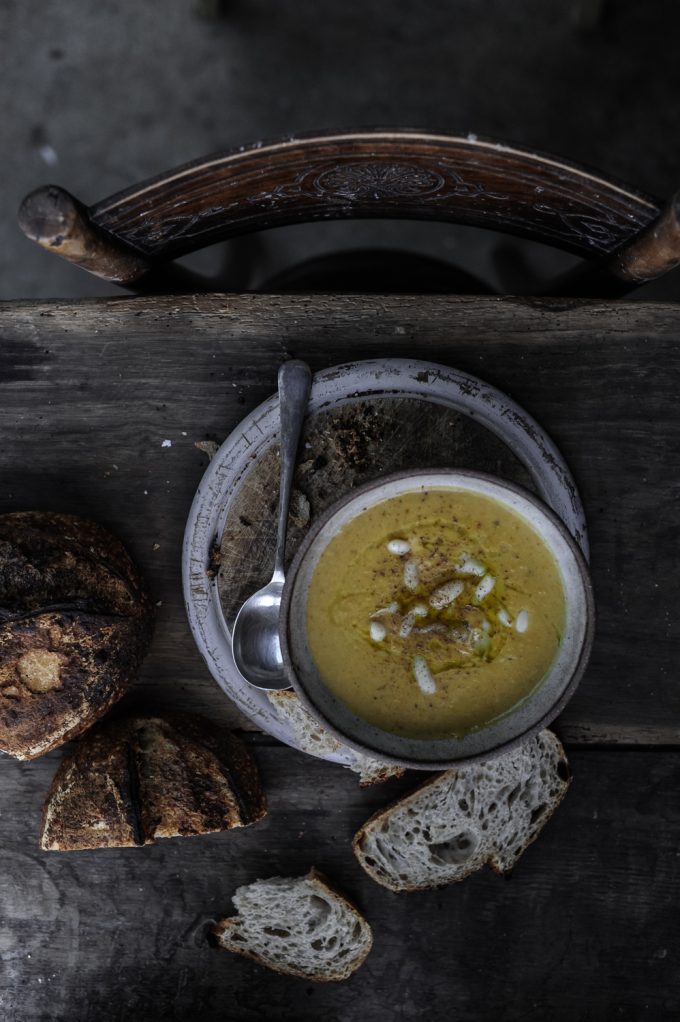 Cannellini Bean Soup
This is one of those recipes that proves simply cooked, good ingredients can produce something really delicious. It's a humble soup, but the kind that is so tasty you want to tear a hunk of bread and run it round the inside of your bowl to ensure you have finished every last drop. The inspiration for this soup is classically Italian. I use a traditional soffritto of finely diced onion, carrot and celery as a base, then add garlic, cannellini beans and a full-flavoured vegetable stock. It's a favourite for lunches here at the school, especially on colder days when we serve it along with slices of freshly baked, soft, warm sourdough bread spread with a little salted butter.
4 tablespoons extra virgin olive oil, plus a little more to serve
1 large onion, very finely diced
2 large carrots, finely diced
3 stick of celery, finely diced
5 cloves of garlic, crushed
3 bay leaves
1.5 litres vegetable stock
3 x 400ml tins of cannellini beans, drained
Sea salt and freshly milled black pepper
1 cup of buttermilk, a squeeze of lemon juice or 1 tablespoon of fruit vinegar (optional)
Equipment
Large saucepan
Wooden spoon
Blender or stick blender
Warm the 4 tablespoons of olive oil in a large saucepan over a medium heat. Add the onion, stir and cook for 6 or 7 minutes, until it is soft and translucent. Add the carrot and celery, stir again and continue cooking for a further 5 minutes, until everything is beginning to soften. Add the garlic and bay leaves, and cook for another minute.
Pour the stock into the pan. Add add the drained beans, along with 2 teaspoons of salt and plenty of black pepper. Stir well, then increase the heat and bring the soup to a boil. As soon as it comes to a boil, turn the heat down as low as possible and cook the soup at a very gentle simmer for about 30 minutes. Take the soup off the heat and leave it to cool. Remove and discard the bay leaves.
At this point I often put the soup in the fridge until it's completely cold. Just before lunchtime, I remove 1 cup of the beans from the pan and set them aside. Puree the soup until it has a lovely smooth texture. If it looks a little too thick, stir in a little water or a cup of buttermilk (if you like that extra bit of tartness). I also like to add a squeeze of lemon juice sometimes for extra acidity, or a tablespoon of a fruit vinegar, maybe pear and blackberry, which brings a slight sweetness to the soup.
After blending, return the reserved cup of beans back to the pan and stir them through to give the soup some contrasting texture.
Heat the soup, then ladle generous helpings into warmed bowls. Top each bowlful with a swirl of a nice, fruity olive oil and a grinding of black pepper. At home I like to lay 2 or 3 rashers of crispy smoked bacon across the top of the soup. But at the school, where the lunches cater for vegetarians and vegans, I will scatter the soup with sourdough croutons that have been crisped up with some oil and rosemary.